About the Project
The research group behind the Bridge of Weir Memorial project:
Gordon Masterton, chairman
Sandy Andrew
Dr Alan Bennie
Janet Birch, honorary secretary
Paul Birch, honorary treasurer
Mary Jane Bird
Joanna Crawford
Rev Kenneth Gray
Margaret Howison
Dick Hughes
Susan Macdonald
Walter Reid
Other members of the Memorial Society are Ronald Anderson, Nan & Donald Blair, Stanley & Pat Chalmers, Sandra Emma Dunbar, Allan and Jenny Durward, Lorraine Fleming, Jean Fulton, Gillian Graveson, George & Eleanor Haig, Elizabeth K Hart, Dr Anne Jenkins, Meg Millar, Fiona E MacDonald, Marjory Noble, Anne Porrelli, Rosemary Read, Hugh & Kay Scott, Miss C Stowe, Pat Walker.
Remembrance Event at Gryffe High School - 13th November 2014
Janet Birch and Margaret Howison took part in creating a Remembrance Room which was open for a day at Gryffe High School. About a hundred young people from across the age groups in the school visited a series of exhibits about war, peace and remembrance. The pictures and maps of Bridge of Weir at the time of the First World War captured their imagination. Some were interested and moved to read the stories on the website of the young men killed in the war. One or two related stories about their own relatives who had taken part in wars. Janet and Margaret were able to tell them about the variety of sources used to research the men and the history of the village.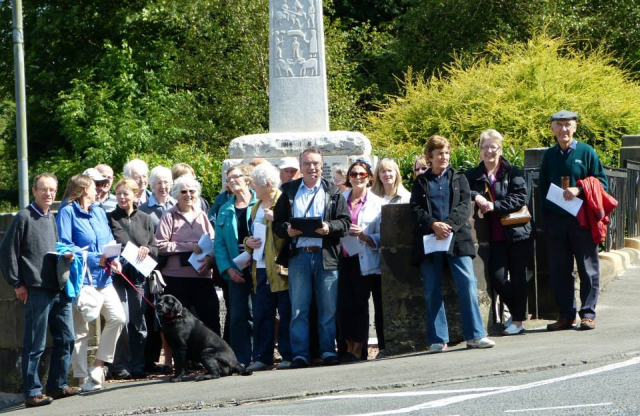 One of two Great War Memorial Walks held on 4th August 2014, on the centenary of the day that Britain entered the European War. It then became the first world war. The walk followed a route past the homes of as many of the young men on the memorial as possible. Gordon Masterton provided a commentary on their brief life and times. The walks finished in St Machar's Church, where Reverend Suzanne Dunleavy gave a reflection and contemplation. A voluntary collection for Erskine Hospital raised £162.
---
TO CITE THIS PAGE: MLA style: "Bridge of Weir Memorial". bridgeofweirmemorial.co.uk. Date of viewing. http://www.bridgeofweirmemorial.co.uk/about.html