PTE A. ROBERTSON A. & S.H.
14554860 Private Alexander Robertson
2nd Battalion,
Argyll and Sutherland Highlanders


died 30th June 1944

aged 19



Hottot-Les-Bagues War Cemetery


Son of Alexander Robertson and Janet Mathewson
Bridge of Weir
---
His Life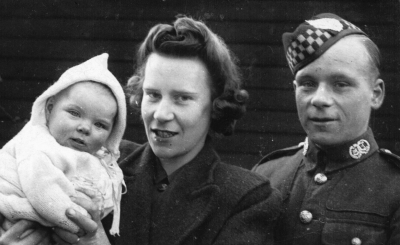 Alexander Robertson, born in Burngill, Main Street, Bridge of Weir and known as Alister, was killed in France 24 days after D-Day. Standing beside him in this photograph is his sister Lilly married to Hugh Brown, a footballer who played for Partick Thistle and was capped for Scotland on several occasions. The babe in arms is Lilly and Hugh's daughter. The family moved to Torquay where Hugh played for Torquay United.
The 2nd Battalion of The Argylls formed part of 227 Brigade in the 15th (Scottish) Division and after the Normandy landings, they were a key part of Operation "Epsom", a major offensive on Caen. Montgomery had hoped to capture Caen not long after D-Day, but had to accept that his thrusts towards the city were helping the American advance on Cherbourg by tying down German resources in the east.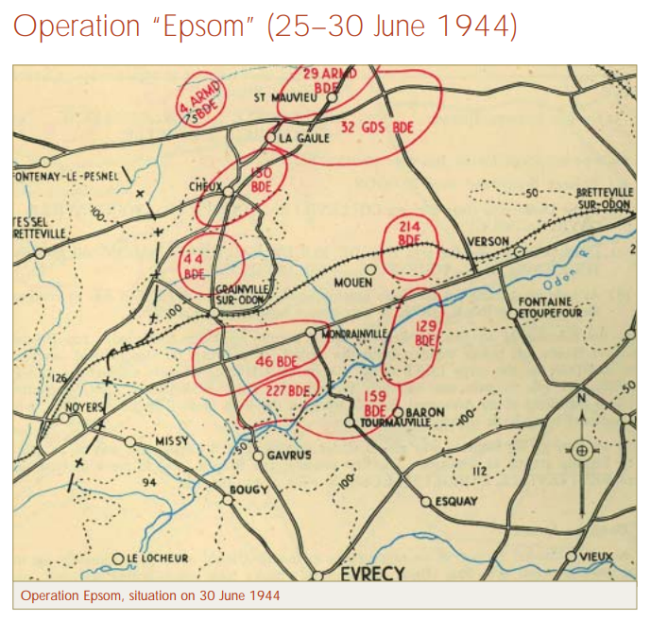 Alister is buried in Hottot-Les-Bagues War Cemetery, about 14km south-east of Bayeux. The Allied offensive in north-western Europe began with the Normandy landings of 6 June 1944. Most of the burials in Hottot-les-Bagues War Cemetery were brought in from the surrounding district, where there was much heavy fighting through June and July 1944 as Commonwealth forces tried to press on from Bayeux in an encircling movement to the south of Caen. The cemetery contains 1,005 Commonwealth burials of the Second World War, 56 of them unidentified, and 132 German graves.
---
Sources
The Second World War. Martin Gilbert. Weidenfeld and Nicolson. 1989.

On June 28, as the Normandy battle continued, with the last German strongpoints in Cherbourg on the verge of surrender, but with Caen still held by the Germans, the figures of Allied dead since June 6 were calculated: 4,868 of the deaths were American, 2,443 British and 393 Canadian.

Second World War 60th Anniversary: The Drive on Caen, Northern France, 7 June - 9 July 1944. Lloyd Clark and Stephen Hart. Royal Military Academy, Sandhurst. 2004.

During the night 26-27 June, the 43rd (Wessex) Division began to relieve the 15th (Scottish) Division. Then, at dawn, the 227th Brigade and the 29th Armoured Brigade attacked. Although the attack on Grainville stalled, the 2nd Argyll and Sutherland Highlanders (2 ASH), supported by the tanks of the 23rd Hussars, moved forward swiftly to seize Colleville. Meanwhile, the 3rd Royal Tank Regiment captured Mouen. The Allies continued to make slow progress, this being aided by the capture of Rauray that afternoon. Finally, the 2 ASH seized the Tourmauville bridge over the Odon and established a bridgehead south of the river. The battalion was later joined in this bridgehead by the 23rd Hussars, the 8th Battalion, the Rifle Brigade (8 RB), and the entire 159th Infantry Brigade. These ground operations were supported by some 349 air sorties, which struck gun and mortar positions, tanks and motor vehicles, and bridges over the River Orne.

On 28 June, the newly arrived II-SS Armoured Corps received orders to attack the British on the Odon the following day. Meanwhile, the German Battle Groups Weidinger and Frey (parts of the 2nd and 1st SS Armoured Divisions respectively) assembled around Noyers and Verson ready to strike at the exposed British flanks. As the Germans prepared their countermoves, Grainville and Le Valtru fell into British hands while the 2 ASH seized the bridges at Gavrus. Simultaneously, the 23rd Hussars and the 8 RB took the important high ground of Hill 112 immediately south of the Odon. Improved weather allowed the RAF to fly more than 650 sorties over the battle area, and additional support was provided by the US 9th Air Force. The 29th Armoured Brigade, however, was pushed back onto the river's northern slopes again that evening. Meanwhile, the counterattacks mounted by Weidinger and Frey failed in their attempt to meet up at Colleville. Nevertheless, these counter-strikes did narrow the British-controlled corridor slightly and disrupted British plans to continue the offensive.

On the morning of 29 June, the 43rd (Wessex) Division advanced to take over the defence on the east side of the corridor, leaving the 15th (Scottish) Division to deal with the west side...

..During 1-2 July, the II-SS Armoured Corps continued to probe and bombard the Odon Valley and the British tried to improve their own positions, but neither side launched major attacks. Indeed, such lower intensity fighting continued for the next nine days. Montgomery stated that Epsom had fulfilled his intention of drawing the German armour away from the Americans and had thwarted the II-SS Armoured Corps counter-attack against Bayeux. Nevertheless, Epsom did not make Caen an untenable position for the Germans and many more lives were to be lost before it, and Hill 112, were safely in Allied hands. Operation Epsom had cost VIII Corps some 4020 casualties, with 15th (Scottish) Division suffering 2331 (58 per cent) of these losses.

TO CITE THIS PAGE: MLA style: "Bridge of Weir Memorial". Date of viewing. http://www.bridgeofweirmemorial.co.uk/profile-robertsonalexander.html