L' CPL JOHN ANDREW K.O.S.B.
44130 Lance Corporal John Andrew
7th/8th Battalion, King's Own Scottish Borderers

killed in action 23rd July 1918

aged 28


Buzancy Military Cemetery
Kilbarchan Cemetery
Ranfurly Church Memorial, Bridge of Weir
Paisley Grammar School Memorial

Son of Henry Andrew and Janet Boyd
Claremont Place, Bridge of Weir
---
His Life
Brothers John and Henry Andrew were both killed in World War I. John was born on 20th October 1889 at Holmes, Lochwinnoch, Renfrewshire, the youngest son of Henry Andrew, a gardener from Dundonald, Ayrshire and Janet Boyd, also from Dundonald, who had married there on 15th December 1876.
In 1881 Henry (28), Janet (30), and their sons Henry and Joseph were living in Kildonan Lodge, Colmonell, a small village in South Ayrshire where Henry was a gardener.
By 1891 after an itinerant few years, the Andrew family had settled in Claremont Place, off Main Street, Bridge of Weir. Henry senior was a jobbing gardener. John was 1 year old.
In 1901 the family, by then without Henry who was working as an ironmonger's assistant in Falkirk, was still at Claremont Place. Joseph was an apprentice plumber, Elizabeth a domestic servant, James a post office telegraph boy. Robert and John (11) were at school.
In 1911, five of the Andrew family were living in the same 2-roomed flat in Claremont Place. Henry senior was still a jobbing gardener; Margaret was "helping at home", Robert was a grocer's assistant and John (21) a student teacher. Joseph, a house plumber, was head of his own household in Windsor Place, Main Street, and married (to a Norwegian wife) with two children. Elizabeth had married Robert Jackson by then and was living in Glasgow.
John Andrew began his teaching career on 6th January 1913 at Mossvale School in Paisley. A school inspection report in March 1914 singled him out for special praise. On 3rd November 1914 he volunteered for active service and was enlisted in the 17th Battalion (3rd Glasgow) of the Highland Light Infantry, formed by Glasgow Chamber of Commerce. He began his training on 6th November 1914 at Troon. Private John Andrew, 16258, first joined the theatre of war in France on 22nd November 1915. On 5th July 1916 he was injured in the leg during the Somme offensive. He recovered sufficiently to return to active service and was later promoted to Lance Corporal and transferred to the 7/8th King's Own Scottish Borderers which formed part of the 46th Brigade, 15th (Scottish) Division. In July 1918 the Division was detached from the British Army, and sent to support the French and American troops near Buzancy in the Marne. They were in action only two hours after relieving the 1st Americans and were unfamiliar with the ground. A barrage in advance of the attack was ineffective. John Andrew was killed in that attack, one of 97 of his battalion killed or missing. The town of Buzancy was taken on 28th July 1918. Lance Corporal John Andrew is buried there, the second of the two Andrew brothers to fall.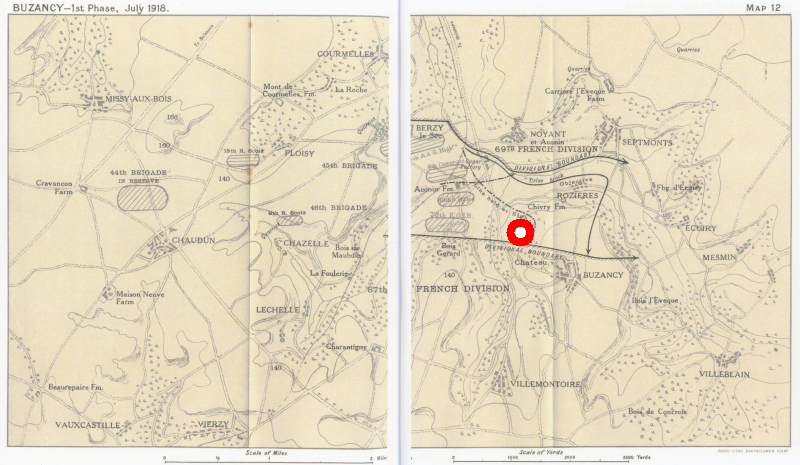 The field of battle where John Andrew fell on 23rd July 1918. The 7th/8th King's Own Scottish Borderers were on the right of the 10th Scottish Rifles. The red circle shows their furthest advance that day.
---
Siblings
| 1881 Census | | 1891 Census | | 1901 Census | | 1911 Census | | Birthplace |
| --- | --- | --- | --- | --- | --- | --- | --- | --- |
| Name | Age | Name | Age | Name | Age | Name | Age | |
| Henry | 3 | Henry | 13 | Henry* | 23 | | | Lochwinnoch, Renfrewshire |
| Joseph | 1 | Joseph | 11 | Joseph B | 21 | Joseph Boyd* | 31 | Hurlford, Ayrshire |
| | | Eliz | 9 | Elizabeth H | 19 | Elizabeth* | 29 | Barrhill, Ayrshire |
| | | Margt | 7 | Margaret | 17 | Margaret | 27 | Maybole, Ayrshire |
| | | James | 6 | James | 15 | | | Maybole, Ayrshire |
| | | Robt | 3 | Robert | 13 | Robert | 23 | Howwood, Renfrewshire |
| | | John | 1 | John | 11 | John | 21 | Howwood, Renfrewshire |
* = not in Henry and Janet Andrew's family home - see text for details
---
Sources
John Andrew birth certificate, 20th October 1889, Lochwinnoch, Renfrewshire. Regd. 2nd Nov 1889.
1881 UK Census: Parish: Colmonell; ED:6; Page:6; Line:3; Roll: cssct1881_181.
1891 UK Census: Kilbarchan; ED:8; Page:11; Line:19; Roll: CSSCT1891_185.
1901 UK Census: Parish: Kilbarchan; ED:2; Page:14; Line:9; Roll: CSSCT1901_188.
1911 UK Census: Ward: Bridge of Weir; Parish: Kilbarchan & Bridge of Weir. Page 10; lines 12-16. 559/0B 002/000010.
1911 UK Census: Ward: Bridge of Weir; Parish: Kilbarchan & Bridge of Weir. Page 13; lines 1-4. 559/0B 002/000013.
Mossvale School, Paisley. School Diary. Glasgow City Archives. Mitchell Library.

10 January 1913: The school opened on Monday 6th inst. with a good turn out of pupils. Staff all present. John Andrew began work on Monday. Only 9 pupils for the Supplementary came for enrolment.
17 January 1913: Mr Andrew has begun work with Senior III Miss Jackson taking Supplementary IV and Miss Connell Sen IV (new). The attendance is on the whole very good except in the Infant Dept.
28 March 1913: The official numbers of this staff are as follows:
Margaret A. Buntin 24055; James O Erskine 21372; Jessie L Wilson 30110; Adam Scott 26199; H.A. Tulloch 4925; John Andrew 29582; Dewar G. Robb 6450; Maggie Fernie 7393; Mary I. Dickie 4676; Anna Paterson 5272; Mag. C Fulton 7172; Jeanie Halden 5886; Christina Clews 9634; Eliz. R.C. Giffin 5220; Robert Erskine 7271; Mary McConnachie 197588; James Scobie 259; Alice Connell 21608; Chas. H. Blackstock 12337; Marion H. Watson 21880; Isab. S. Paton 23480; Jenny W.M. Watson 18820.
20 March 1914: This week on Wednesday and Thursday Mr Stewart H.M. Inspector visited the school and examined the Junior and Senior Divisions. He expressed himself as well pleased with the work of the whole Junior Division. In the Senior Division he found splendid work in Senior I and with the other classes he was well pleased especially the lowest in the hands of Mr Andrew. He felt that all were doing very good work. He advised Miss Fulton to go in and assist Miss McClay in the youngest class as she was quite a new teacher from the Training College. I am going in myself occasionally and giving her hints.
3 November 1914: Today Mr John Andrew teacher in the Senior Division of the school intimated to me that he felt it to be his duty to volunteer for Military Service during the period the Country is at war. I have intimated the same to Mr Murdoch the Convener of my Board.
4 November 1914: Mr Andrew has written today to the School Board intimating his intention and saying that he is to begin Military duties at Troon on Friday morning of this week.
6 November 1914: Yesterday Mr John Andrew staff who had volunteered for Military Service during the war in the Glasgow Chamber of Commerce Battalion left us in the afternoon to begin his Military training today. The staff gave him a small presentation on his leaving the school. He was congratulated by all on his patriotic resolution and all our best wishes go with him.
On Monday and Tuesday evenings of this week the Janitor took up the School Board officers work, which has been in abeyance since they volunteered for Military Service. He had about 4 hours visiting. Infectious disease, chicken pox, whooping cough and scarlet fever is present with us just now. This season also is the parent of many other illnesses which are causing a lot of absences.
9 November 1914: Concerning the letter I wrote to Mr Murdoch convener School Committee telling him that Mr John Andrew of our staff had volunteered for Military Service and also the letter sent to the Clerk by Mr Andrew I have the following communication from Mr Murdoch.:
Gallowlea Muckleriggs, Paisley, 6th Nov 14
Dear Mr Cockburn, I submitted your letter and that of Mr Andrew to the Board in Committee last night, and was authorised to make an appointment to your school. I may not find a suitable candidate for a day or two but I shall attend to the matter as soon as possible.
Yours faithfully (signed) Alexander Murdoch.
13 November 1914: No one has as yet come to fill Mr Andrew's place.
18 November 1914: Today Miss Maggie S Watt, 1021 Argyle St, Glasgow joined our staff. Meantime she fills the place left vacant Mr Jno Andrew who has volunteered for Military Service but whose name has not been taken off our staff list. Miss Watt's age is 21. 2. 1893. Her superannuation number 34451. Trained Glasgow Provincial Training College years 1912-1914.

Divisional History: The Fifteenth (Scottish) Division 1914-1919. J. Stewart and John Buchan. 1926.

Isolated from the British Army, the Division was now in close support of the French and American troops, then engaged in attacking the heights between Tigny and Belleu. So far the combined attack had been a complete success, but losses had been heavy, and fresh battalions were required to exploit the advantage already gained.
General Reed received short notice that the Division would be required. At 9.20 P.M. on the 22nd, Corps orders arrived to the effect that the 10th French Army would resume the offensive on the morning of the 23rd, and that the Fifteenth, taking over from the 1st (American) Division (General Summerall), would attack the enemy positions between Berzy-le-Sec and the north-west corner of Buzancy, adding that zero hour would be 5 A.M.
Under such conditions it was impossible to make anything like a proper reconnaisance of either the line to be taken over or of the position to be attacked. This proved unfortunate, as will be seen later. Never did the Division carry out such a relief, for little or no information could be obtained from the relieved troops. The following is an instance of what took place that night. An officer of the 1/8th Argylls took over a portion of the line south of Berzy village. He met the officer commanding the French company he was to relieve, who, standing in the darkness, pointed in various directions, and said, "Mitrailleuse la, et la, Boche la. Moi, je vais." And he went, without another word!...
The objective of the right brigade, the 46th, was the village of Rozières and the high ground between that village and Buzancy. The task of the left brigade, the 45th, was the capture of Le Sucrerie, south-west of Noyant, and the crossings of the river Crise east and north of it. In reserve was the 44th Brigade, just east of Cravancon.
On the right Brig.-General Fortune attacked with the 7/8th K.O.S.B. on the right and 10th Scottish Rifles on the left, keeping the 9th Royal Scots in reserve....At 5 A.M. on the 23rd the assault began, and was at once held up by heavy machine-gun fire from nests of guns overlooked by the barrage. In addition, the barrage itself was poor, and in fact the left of the 10th Scottish Rifles was not covered by it at all. This was due to the fact that the Franco-American front line was supposed to be some 600 yards in advance of what it actually proved to be, with the result that the barrage fell far behind the actual German front line.
On the right the K.O.S.B. and Scottish Rifles managed to work forward a few hundred yards, but at 8.15 A.M. Brig.-General Fortune reported that his brigade was unable to advance farther owing to heavy losses and lack of artillery support...
About 10 A.M. it was discovered that neither of the French Divisions on the flanks had been able to advance, and both flanks of the Fifteenth were consequently in the air. To remedy this a company of the 10th Scottish Rifles, who had not lost as heavily as had other battalions, was placed at the disposal of the O.C. 7/8th K.O.S.B. to form a defensive flank on the right, whilst on the left the Argylls held the left flank of the Division. [footnote] On this occasion the 7/8th K.O.S.B. lost 4 officers killed, 10 wounded; 32 other ranks killed, 214 wounded, and 63 wounded and missing, whilst the Argylls lost almost as heavily....
When night fell the Divisional front line ran as shown on Map 12 [above]. Under cover of darkness both the 45th and 46th Brigades relieved their front-line battalions. On the right the 9th Royal Scots took over the whole of the 46th Brigade line, whilst the 13th Royal Scots did the same on the 45th front, both reliefs being complete before dawn.

War Diary: 7/8th King's Own Scottish Borderers. 1 Jun 1916 - 30 Jun 1919. WO95/1953/3. National Archives.

23 July 1918: Battalion Headquarters were established in a cutting at a point half a kilometre due east of where the CHAZELLE ROAD cuts the Railway. Coy dispositions were as follows:- "C" Coy. on right; "D" Coy. on left; "A" Coy. in close support; and "D" Coy in reserve. ["D" Coy. clearly written twice. No "B" Coy. mentioned] Difficulty was experienced in getting orders for the attack into the hands of Coy. Commanders, as the runners were not acquainted with the ground, and were unable to find their way in the darkness over the weedy and marshy ground. At 3 A.M. Capt WEIR and 2/Lt. M. FENWICK, Intelligence Officers, went out to assist Coy. Commanders to get their men into assembly position for the attack. Our barrage was put down on the enemy lines at 4.10 A.M. The objective set the Battalion was a plateau one kilometre east of the then front line. The barrage put down was not successful in putting out of action the very large number of concealed machine guns belonging to the enemy, and the progress of the attacking Coys was impeded by these obstacles. Our reserve and support Coys were later brought forward, but they also met with little success. The first report to reach Bn H.Q. was at 6.10 A.M. and stated "No artillery support on our front. Being held up by machine gun fire all along. Casualties heavy." The French troops who attacked on our right also failed to gain their objective. At 10 A.M. orders were received that the French were going to attack for BUZANCY at 11.45 A.M. and the forward Battalions of the 46th I.B. - the 7/8th K.O.S.B. and the 10th SCO. RIF. were to conform to the French line, and to defend their flank. This operation was postponed just at Zero hour. It was again arranged for 8.30 pm, but was again postponed indefinitely. In the initial attack, our Battalion had consolidated outposts 150 yds in front of the original front line, and maintained these positions until relieved early on the morning of the 24th inst. At 5 pm the following casualties amongst officers had been reported:-
Killed - 2/Lt J.B. SLOAN; 2/Lt A.B. WHITE; 2/Lt J. WYPER; Missing - Lieut. V. COWLEY. Wounded - Capt I. TAYLOR; Capt A.B. PATON (at duty); Lieut. S. WILSON; Lieut. E.M.C. HOUSTON; Lieut J.C. WILSON; 2/Lieut M. FENWICK; 2/Lieut J. MACAULAY; 2/Lt K. LIDSTER and 2/Lt W.M. HONEYMOON. The Commanding Officer was wounded near Bn. Headquarters about 6 pm. and was immediately evacuated to the Field Ambulance. Capt. J. WEIR, M.C. took over command. At night the Battalion was relieved by the 9th ROYAL SCOTS.
24 July 1918: On relief by the 9th ROYAL SCOTS, the Battalion was withdrawn into Brigade reserve, and occupied positions near the village of CHAZELLE. Major F.L. HAMILTON, M.C. arrived from Details in the forenoon, and took over command of the Battalion. The total casualties to the Battalion during the one day's operations on 23rd were:- 3 officers killed; 1 officer missing; 10 officers wounded; 32 O.R. killed; 61 O.R. missing; 2 O.R. wounded and missing; and 214 O.R. wounded.

St Machar's Church of Scotland, Bridge of Weir, Death and Interment Register:
o Andrew, John; Lance Corpl. 7/8 K.O.S.B.; Claremont; Killed in Action 23 July 1918.
Paisley and Renfrewshire Gazette

7th November1914: John Andrew, school teacher, has enlisted in the Commercial Glasgow 3rd HLI.
15th July 1916: Several casualties reported the outcome of the recent British offensive. Three members of the H.L.I. - Private John Andrew, Richard Caldwell & Robert Haddon are reported injured in leg, face and arm respectively.
17th August 1918: Much sympathy is felt locally for Mr & Mrs Henry Andrew, who have received official notification of the death of their son, Lance Corporal John Andrew. This is the second son of four serving sons to fall. Lance Corporal Andrew, who, prior to enlisting was a school teacher in Paisley, was well known locally and greatly esteemed by all who had the pleasure of his acquaintance. The deceased soldier was 27 years of age and enlisted at the outbreak of war, in the Commercial Battalion of the HLI.
26th July 1919 - IN MEMORIAM: In loving memory of our dear Son and Brother, Lance-Corporal John Andrew, 7/8 KOSB, who was killed in action at Buzancy, France on 23rd July 1918.


Ever thinking of you
Yes, at the going down of the sun, and in the morning
Thinking of you.

Claremont Place, Bridge of Weir.

Kilbarchan Cemetery Monumental Inscription:
o Erected by HENRY and JANET ANDREW in loving memory of their son Pte. HENRY ANDREW A.S.C. who died at Paisley Alexandria Infirmary 4th Jan 1917 aged 39 years and their youngest son L.Cpl. JOHN ANDREW 7/8 K.O.S.B. killed in action in France 23rd July 1918 aged 28 years the above JANET ANDREW died 30th Jan. 1927 aged 77 years MARGARET died 1st Nov. 1927 aged 44 years "Until the day dawn".
Paisley's Fallen in the War: 1914-1918. Wm. A. Lochhead pub. 1920
o Corporals: John Andrew (27), parents Claremont, Bridge-of-Weir, teacher, Mossvale School-joined 17th H.L.I. when war began, transferred K.O.S.B.- killed July 23, 1918.
Medals: Victory, British War, 1915 Star.
TO CITE THIS PAGE: MLA style: "Bridge of Weir Memorial". Date of viewing. http://www.bridgeofweirmemorial.co.uk/profile-andrewjohn.html