PTE JAMES WOODROW 8TH S.HRS.
S/21660 Private James Woodrow
8th Battalion, Seaforth Highlanders

killed in action 22nd August 1917

aged 26


Tyne Cot Memorial
Freeland Church Memorial, Bridge of Weir



Son of James Woodrow and Elizabeth Gilmour
Ladeside Place, Bridge of Weir
---
His Life
James Woodrow was born on 19th April 1891 in Bridge of Weir, the eldest son of James Woodrow from Kilbarchan, Renfrewshire and Elizabeth Gilmour, daughter of a publican, who had married in Bridge of Weir in July 1890.
In 1901 James (34) and Elizabeth (31) were living with their four children, James (9), Sarah, Henry and John in Gateside Cottage, New Street, Kilbarchan. James senior was employed as a joiner.
By 1911 the Woodrow family of five had moved to Burngill, Bridge of Weir. Sarah was a cloth printer in a calico print works, and Harry was a butcher. James junior was not in the family home and neither was John, but another daughter Jessie had been born. By 1915 the family had moved again to Ladeside Place.
As well as his service with the Seaforth Highlanders, James's Medal Index Card states that he served in a Training Reserve Battalion (with Regimental No. 1/12941). The Card does not record when he first joined the theatre of war but he was not awarded the 1914 -15 Star. The 8th Seaforth formed part of 44th Brigade in the 15th (Scottish) Division.
His death is recorded as 22nd August 1917 on the Tyne Cot Memorial, which commemorates nearly 35,000 servicemen from the United Kingdom and New Zealand who died in the Ypres Salient after 16th August 1917 and whose graves are not known. The date is consistent with the Division's participation in the Third Battle of Ypres (Passchendaele). On 22nd August 1917 8th Seaforth sustained 393 casualties (having earlier lost 203 in July) in the Ypres Salient. They were then reduced to just over 200 strong.
James's younger brother Henry Gilmour Woodrow, a butcher to trade, survived the war. He had volunteered at the age of 18, served in the Machine Gun Corps, but suffered multiple gunshot wounds in July 1918 and spent the next 40 days in hospital.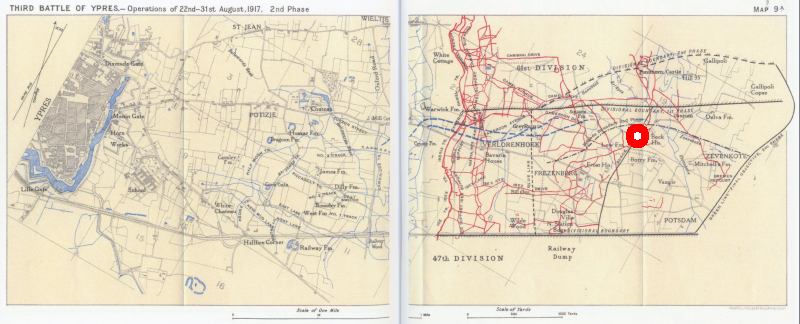 The field of battle where James Woodrow fell on 22nd August 1917. The 8th Seaforths were attacking Beck House and Borry Farm.
---
Siblings
| 1901 Census | | 1911 Census | | Birthplace |
| --- | --- | --- | --- | --- |
| Name | Age | Name | Age | |
| James | 9 | | | Bridge of Weir |
| Sarah | 7 | Sarah | 17 | Bridge of Weir |
| Hendry G | 5 | Harry G | 15 | Bridge of Weir |
| John | 1 | | | Bridge of Weir |
| | | Jessie G | 3 | Bridge of Weir |
---
Sources
James Woodrow birth certificate, 19th April 1891; regd 8th May 189; Kilbarchan: 568/01 0050.
1901 UK Census: Parish: Kilbarchan; Ward: Kilbarchan: page 15; sch.17.568/01 002/00 015.
1911 UK Census:Parish: Houston & Houston West: page 17. Lines 10-14. 559/0B 001/00 017.
Communication from the Highlanders' Museum. 12th March 2014
A Woodrow Family: Kathleen Woodrow Stewart.1991
War Diary: WO95/1940/3 8th Seaforth Highlanders. 1 Jul 1917 - 30 Sep 1917. National Archives.

20 Aug 1917: 7.15 pm. The Battn marched to relieve a portion of the 10/11th HLI & 2 Coys 10th Bn SCOTTISH RIFLES in accordance with operation order attached.
21 Aug 1917: Right Bn. Left Section. Right Sector. XIX Corps. 1.10 am. Relief was complete. The day was quiet & spent in final preparations for proposed attack.
10.30 pm. Coys began to move forward to their jumping-off positions. This was carried out quietly & successfully. Weather good.
22 Aug 1917: 12.30 am. The battalion was in position as detailed in Appendix 22.
4.45 am. This was ZERO HOUR. Bn moved forward in cooperation with troops on each flank. Objectives were as per App. 22.
6.40 am. 11th A.&S.H. Hlndrs on right reported they were back in original front-line.
7.30 am. Enemy retained objectives [IBERIAN, BECK HO] & drove back all troops except 'B' Coy who met little resistance &, passing between IBERIAN & BECK HO., were cut off.
7.45 am. Bn was substantively back in original positions. App. 23 All attention was now directed to consolidation. Enemy sniping became v. troublesome, & many caualties resulted. Two Coy Cmdrs were by now killed. Capt Thornton ('D' Coy) & Lieut Macmillan ('B' Coy). One was wounded - Capt Murray. In all 3 officers remained with the Coys:- 2/Lts Blackwood, Jackson, & Henderson. The signalling officer, Lt Todd, took command of a mixed body in 'support', while 2/Lt Blackwood & 2/Lt Jackson took charge of the front-line.
12 noon. Enemy artillery quiet.
3.40 pm. Enemy counter-attacked Left division.
6.30 pm. Enemy began to dribble forward from ZEVENCOTE.
7.5 pm. ? movement became suspicious & artillery barrage was called for.
7.30 pm. Heavy evening barrage was dropped from FREZENBERG & POMMERN.
8.50 pm. Enemy barrage ceased. No attack took place. Our barrage very heavy.
9.50 pm. Orders were received and issued for a raid at midnight on the morning's objectives.
11.50 pm. Verbal orders came to alter ZERO HOUR to 1.30 am. Weather fine.
23 Aug 1917: 1.30 am. Attack took place & was unsuccessful. Report is attached.
6.30 pm. The day was uneventful. Orders for relief were received & issued. Weather fine.

Paisley and Renfrewshire Gazette
o 28th August 1915: Listed as having taken the oath Henry Gilmour Woodrow, Ladeside-place
Henry Gilmour Woodrow WWI Service Record.
Medals: Victory, British War.
TO CITE THIS PAGE: MLA style: "Bridge of Weir Memorial". Date of viewing. http://www.bridgeofweirmemorial.org/profile-woodrow.html