PTE HEPNER GIFFEN 16TH R.S.
43897 Private Hepner Giffen
(Gottfried Hepner)
16th Battalion, Royal Scots

killed in action 28th April 1917

aged 23

Arras Memorial
Quarrier's Village Roll of Honour

Son of Gottfried Hepner and Alma Jacob
Foster son of Humphrey and Christina Giffen
Husband of Helen McDougall,
Old Manse, Bridge of Weir
---
His Life
Hepner Godfrey Giffen, the name by which he came to be known, was in fact Gottfried Hepner, the son of Gottfried Hepner, a German-born musician , and Alma Jacob, from Tregory, Cornwall, who had married in Ilfracombe on 29th August 1878. Gottfried was born on 4th September 1893 in 53 Mount Street, Glasgow, the youngest of five children.
In 1891 Gottfried (45), Alma (35), and three of their children Otto, Frederick and Minnie (Minna Henrietta) were living in 62 Mount Street, Maryhill, Glasgow. Bertha was born in 1891. Alma died on 29th December 1893, from internal tumours. Her widower Gottfried died in 1894. The children, except for 16-year-old Otto, were then taken into the care of Quarrier's Homes, Bridge of Weir.
Quarrier's Homes had a programme of sending children to join farming families in Canada and Fred was sent to Ontario in April 1896, Minnie in May 1896, and Bertha in June 1897. Otto Hepner (18), although not taken into care, was one of the party of Quarrier's children on the SS Siberian in March 1897.
Gottfried was not, however, shipped to Canada. He had been fostered to Humphrey Giffen (63), gardener at Quarrier's and later Church Officer and his wife Christina Newbigging (62), matron of Somerville Home at Quarrier's. His name is recorded in the 1901 census as Hepner Giffen aged 7.
In 1911, Hepner (17) was still living with his foster-parents at Quarrier's and was employed as an apprentice joiner.
Hepner signed the Oath of Allegiance on 11th December 1915 and was mobilised into the 3/5th Scottish Rifles on 1st February 1916, with regimental number 566. He was trained initially at Ripon and then at Catterick from 12th April.
Hepner married Helen (Nellie) McDougall, daughter of Robert McDougall, farmer and Jane McGhee in the Old Manse, Bridge of Weir on 25th May, 1916. Helen was 23 and a shop assistant. Hepner was a Private in the 3/5th Scottish Rifles based at Catterick Camp, Yorkshire.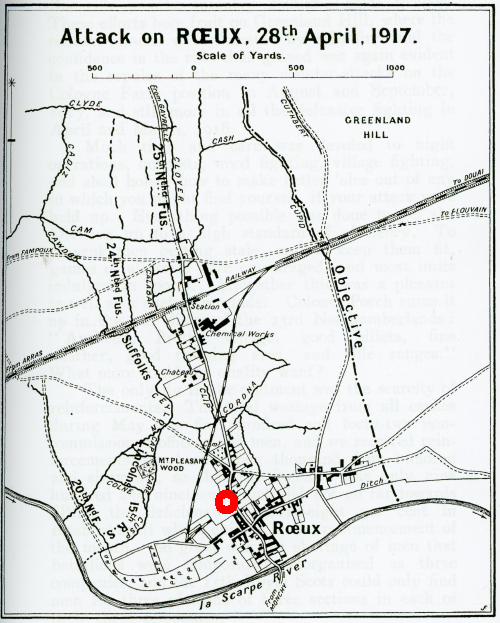 Private Giffen first joined the theatre of war in France on 4th June 1916 and was transferred to 16th Battalion, Royal Scots on 11th July 1916. The 16th Royal Scots came under orders of 101st Brigade, 34th Division which had suffered severe losses on the first day of the Battle of the Somme on 1st July. The battalion was well known in Scotland as the one raised by Sir George McCrae in Edinburgh that included sixteen members of Heart of Midlothian Football Club and players from many other clubs.
Hepner was killed in action on 28th April 1917, in the attack on the village of Roeux, an engagement in the Battle of Arras. His name is recorded on the Arras Memorial which commemorates almost 35,000 servicemen who died in the Arras sector between the spring of 1916 and 7th August 1918 and have no known grave. Most of the names are those who fell in the Arras offensive of April-May 1917.
Gottfried's widow Helen was awarded a pension of 13/9d a week with effect from 31st December 1917.
---
Siblings
| 1891 Census | | 1901 Census | | 1911 Census | | 1920 Service Record | | | Birthplace |
| --- | --- | --- | --- | --- | --- | --- | --- | --- | --- |
| Name | Age | Name | Age | Name | Age | Name | Age | Address | |
| Otto | 12 | | | | | | | | Penzance |
| Frederick | 4 | | | | | Fred | 33 | Mountain Grove, Ontario | Glasgow |
| Minna | 2 | | | | | | | | Glasgow |
| | | | | | | Beatrice | 30 | unknown | Glasgow |
| | | Hepner | 7 | Hepner | 17 | | | | Glasgow |
---
Sources
Gottfried Hepner birth certificate, 4th September 1893. Regd. Kelvin, Glasgow 22nd September 1893; 644/09 1394.
1891 UK Census: Parish: Glasgow Maryhill; ED:72; Page:2; Line:10; Roll: CSSCT1891_278.
1901 UK Census: Parish: Kilmalcolm; ED: Kilmacolm Orphanage; Page:26; Line:17; Roll: CSSCT1901_200.
1911 UK Census: Parish: Kilmalcolm; ED: Kilmacolm Orphanage; Page:29; Lines: 3-5; 69/00 010/00 029.
Hepner Giffen and Helen McDougall marriage certificate. 25th May 1916. Regd Bridge of Weir 27th May 1916
Freeland United Free Church. Record Since April 1916. Pub. July 1916.
Otto Hepner on Passenger List for S.S. Siberian. 31st March 1897.
Hepner Giffen Army Service Record.

Height 5'7½"; Weight 148lbs; Chest 38" fully expanded; Good physical development.

McCrae's Battalion: the Story of the 16th Royal Scots. Jack Alexander. 2003.

The Battalion, meanwhile, was 'refitting'. On 10 July [1916] the first reinforcements appeared - 64 Glasgow lads, originally intended for the 16th Highland Light Infantry. They were joined next day by 54 members of the 5th Scottish Rifles and 200 members of the 6th Scottish Rifles, seasoned Territorials from the steel towns of Lanarkshire, most of whom had been in France since the spring of 1915. p183.
Two brigades would attack in line - 103rd to the north of the railway and 101st to the south. The Suffolks drew the Chemical Works; the Lincolns, in the centre, drew the cemetery and its adjoining buildings. 15th Royal Scots got the short straw - the lower wood and the main part of the village. McCrae's were detailed to follow the lead battalions and 'mop up' any lingering resistance....
Zero hour was 4.25 a.m. It was so dark that some units were unable to determine the direction of advance.... Meanwhile back in the village, around 70 members of the 16th were trying to mop up the unmoppable. A Company, commanded by Mike Lyon, and B Company, commanded by Alfred Warr, had moved up with the 15th. They entered the wood ten paces behond and sustained heavy casualties as they battled their way through. Warr's platoon, bringing up the rear, had the door slammed in its face and was forced to take cover in a series of shell-holes on the western edge of the tree-line. The remaining platoons and Pagan's command were now cut off. Unaware of his predicament, Lyon proceeded to clear the buildings in accordance with the prearranged plan.....
The Germans were pouring into the village from the direction of the Chemical Works. Within a matter of minutes, the moppers had been mopped up themselves. Lyon retired to the river-bank and tried to make a stand, but he was overrun and captured. Willie Sponder, a 33-year-old grocer from Temple Park Crescent, was the battalion's machine-gun sergeant. His right arm was fractured by the same bullet that killed one of his pals. He, too, went into the bag. Years later, he would compare the assault on Roeux to poking a wasps' nest with a pointed stick. 'We should have left it well alone,' was his opinion. pp.212-216.

War Diary. 16th The Royal Scots 1 Jan 1916 - 31 Aug 1918. WO95/2458/1. National Archives.

28 April 1917: The enemy was quiet during the hours of darkness.
4.25 a.m.: Zero hour. Barrage 200yds E. of our front line. All companies left jumping-off trenches & moved forward under terrific machine-gun & rifle fire from CHEMICAL WORKS, WOOD & ROEUX.
4.25 a.m. to 6.42 a.m.: The artillery programme was continued in accordance with APPENDIX 'A'.
The left & centre battalions, were checked at the onset, & for the most part retired quickly to their jumping-off trenches. Considerable hand-to-hand fighting took place in the CHEMICAL WORKS, & small parties established themselves in shell-holes in & about the buildings.
On the right the assaulting troops pushed forward under the barrage into ROEUX. A party 60 strong established itself in the WOOD. SW of ROEUX & engaged in some hand-to-hand fighting there. Later they were compelled to withdraw in fear of being cut-off. The troops who entered ROEUX were cut-off by the enemy.
9.30 a.m.: the enemy attacked our lines in front of MOUNT PLEASANT WOOD & established a footing there. He was however dislodged by a bombing attack & suffered very heavy casualties in ......
During the remainder of the day there was considerable artillery fire on both sides, also sniping.
CASUALTIES: Officers; killed 1, wounded 3, missing 6. (killed 2/Lt A. BROWN; Wounded CAPT. A.R. STURROCK; LT. S.M. BRYCE; 2/Lt. A.M. GORDON; Missing CAPTN. The Hon M.B. LYON; 2/LT. F.M. DUFF; W.S. MACKENZIE; G.H. HENDERSON; G.H. DALGETTY; W.D. HOWATT.
O.R.s Wounded 60, Missing 170.
STRENGTH: Officers 7. O.R.s 150.
Officers were H.Q. LT CoL. A. STEPHENSON, LT & ADJ. W.O. McCARTHY, 2/LT R.B. EVANS (Bn Casualty Officer)
'A' Co NIL; 'B' Co CAPT A.E. WARR; 'C' Co 2/LTs H.A. COWIE, B.M. ARMSTRONG; 'D' Co 2/LT A. RITCHIE.

Paisley and Renfrewshire Gazette

30th June 1917: PRIVATE HEPNER GIFFEN: Private Hepner Giffen, Royal Scots, husband of Nellie McDougall, Old Manse, Bridge of Weir, has fallen in action. He was previously reported missing, and is now officially reported killed on 28th April. Deceased was a joiner to trade, and was well-known in Bridge of Weir district. He is a son of Mrs. Giffen, Orphan Homes of Scotland, Bridge of Weir.
3rd May 1919: IN MEMORIAM: In memory of Hepner Griffen, Killed in action April 28th 1917, husband of Nellie McDougall, Old Manse, Bridge of Weir.

Medals: Victory, British War.
TO CITE THIS PAGE: MLA style: "Bridge of Weir Memorial ". Date of viewing. http://www.bridgeofweirmemorial.co.uk/profile-giffen.html