PTE ANDW GARDINER N.Z.C.R.
6/459 Private Andrew Gardiner
---
His Life
Andrew Gardiner was born on 12th March 1893 in Bridge of Weir, the second of a family of nine (seven surviving) born to Andrew Gardiner, then a quarryman from Lochwinnoch, Renfrewshire and Margaret Williamson from Armadale, West Lothian, who had married in Glasgow on 24th August 1888.
In 1891 Andrew (24), Maggie (23), and their first two children William and Maggie were living in Lairds Land, Main Street, Bridge of Weir. Andrew was at that time working as a ploughman.
In 1901 the Gardiner family of seven was living in Weighhouse Row, Carluke, Lanarkshire. By then Andrew senior was a pit brusher. The children, including Andrew junior (8), were at school unless too young. Maggie (2 months old in 1891) was not in the family home.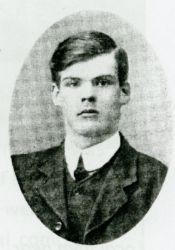 Andrew enlisted as a Territorial with the 8th Battalion H.L.I. in 1908. Andrew was a member of the "Wilberforce" Lodge of Good Templars, and played football for teh Good Templars and for Carluke Hearts. By 1911, the family, now of nine, was living in a 4-roomed house in Clyde Street, Carluke. Andrew senior was a contractor brusher, and an employer of men. William was a brusher, Andrew junior (18) a pit drawer, and the rest of the children were at school except for young James.
Later that year, Andrew emigrated to New Zealand and was working as a farm labourer for James Grant, Greyhills, in Fairlie, Canterbury District, South Island when war was declared.
Andrew volunteered on 14th August 1914 in Timaru, New Zealand and enlisted into the Canterbury Infantry Battalion, 2nd (South Canterbury) Company which embarked on the Athenic on 23rd September 1914 but had to wait for escort ships to arrive. They departed as a fleet of ten transport ships and four escorts on 15th October 1914, disembarking at Alexandria on 3rd December 1914. They camped at Zeitoun, four miles from Cairo and began combat training, although on 9th December, Andrew received detention for going AWOL, perhaps exploring the sights of Cairo.
In February 1915 they were transferred to defend the Suez Canal against the Turks, with the 2nd Company in general reserve at Ismaili Ferry Post. On 10th April 1915 the company left for Alexandria and embarked on the Lutzow, arriving at Mudros harbour on Lemnos on the 15th. The Canterbury Battalion arrived at ANZAC cove, again on the Lutzow, at 7am, disembarking without casualties by 12.30pm and was sent immediately into action reinforcing the 3rd Australian Brigade. In early May, the Canterbury Battalion was involved in fighting at Cape Helles. Andrew was wounded in the leg on 11th May and shipped back to Mudros Harbour on the Franconia for treatment at the Hospital. He rejoined his unit on 13th June 1915.
Chunuk Bair was one of the main objectives in the Battle of Sari Bair, fought between 6th and 10th August 1915. The attack was to be carried out by two columns of the New Zealand Infantry Brigade, starting from the outposts on the shore and proceeding up the Sazli Beit and the Chailak Deres and capture Chunuk Bair on the Sari Bair Ridge. The Canterbury Battalion formed the right assaulting section of the right assaulting column. On the morning of the 7th August, the battalion dug in on Rhododendron Spur under very heavy rifle and machine gun fire. At 12.30pm half the battalion was ordered to support Auckland in a new attack and lay down in the open, attracting heavy fire. One officer was killed and six other ranks badly wounded. The attack wasn't made and the troops returned to Rhododendron Spur. Sometime during that eventful day Andrew was killed.
But it all came to nothing. Chunuk Bair was finally taken but on the morning of the 10th, it was re-taken by a determined and overwhelming counter-attack by a Turkish Army Corps led by Mustapha Kemal Pasha. The loss of Chunuk Bair marked the end of the effort to reach the central foothills of the peninsula and on this sector of the front, the line remained unaltered until the evacuation in December 1915.
The Chunuk Bair (New Zealand) Memorial is one of four memorials erected to commemorate New Zealand soldiers who died on the Gallipoli peninsula and whose graves are not known. Andrew Gardiner from Bridge of Weir is one of them.
---
Siblings
| 1891 Census | | 1901 Census | | 1911 Census | | Birthplace |
| --- | --- | --- | --- | --- | --- | --- |
| Name | Age | Name | Age | Name | Age | |
| William | 1 | William | 11 | William | 21 | Avonbridge, West Lothian |
| Maggie | 2 mo | | | | | Bridge of Weir |
| | | Andrew | 8 | Andrew | 18 | Bridge of Weir |
| | | David | 6 | David | 16 | Bridge of Weir |
| | | Catherine | 3 | Kate | 13 | Bridge of Weir |
| | | Elizabeth | 1 | Lizzie | 11 | Bridge of Weir |
| | | | | Janet | 9 | Carluke, Lanarkshire |
| | | | | James | 2 | Carluke, Lanarkshire |
---
Sources
New Zealand Online Cenotaph. Auckland Museum. Accessed 21 December 2014
Wasted Journey, The Buddies who never came back. Paisley Library. 940.467; PC17430: O/S
Andrew Gardiner birth certificate, 12th March 1893. Regd. Kilbarchan, Renfrewshire 30th March 1893.
1891 UK Census: Parish: Kilbarchan; ED:9; Page:4; Line:7; Roll: CSSCT1891_185.
1901 UK Census: Parish: Carluke; ED:1; Page:85; Line:6; Roll: CSSCT1901_256.
1911 UK Census: Parish: Carluke West. Ward: Carluke West; Page 34; lines 2-10. 629/00 001/00 034.
Andrew Gardiner Army Service Record. Canterbury Infantry Battalion, 2nd Company

Ht 5'6½"; Wt. 166lb. Chest 36".
Previous military experience: 3 years with 8th battalion H.L.I.
9th Dec 1914: Absent without leave. 168 hrs detention forfeit 2 days pay;

The History of the Canterbury Regiment, N.Z.E.F 1914-19.Capt David Ferguson. Auckland, 1921
Carluke Parish and the Great War. Book 1 1914-1916. Carluke Parish Historical Society, 2015
Medals: Victory, British War, 1914-15 Star.
TO CITE THIS PAGE: MLA style: "Bridge of Weir Memorial". Date of viewing. http://www.bridgeofweirmemorial.co.uk/profile-gardiner.html