2ND LT ALISTER DUFF 7TH S.R.
Second Lieutenant Alexander (Alister) Duff
---
His Life
Alister Duff was born on 13th August 1887 in Corrievreck, Bridge of Weir, and was registered as Alexander. He was the youngest of a family of three born to James Duff from Kirkmichael, Perthshire, a wine and spirit merchant and Mary Deans, from Cardross, Dunbartonshire who had married in Crosshill, Glasgow on 29th June 1876. James was proprietor of Macleay Duff & Co., Renfrew Street, Glasgow.
In 1881 James (32), Mary (28), and their first daughter Helen were living in 58 Albert Road, Cathcart, Glasgow.
By 1891 the Duff family, now with three children including Alister (3), had been living in Corrievreck, (now in Montrose Terrace), Bridge of Weir at least since 1887. They employed a general servant, 22 year old Joan Clark from Glasgow. Charles Duff, commercial traveller in wines and spirits, was visiting.
In 1901 the Duff family was still living in Corrievreck. Alister was a pupil at the High School of Glasgow, probably around this time. The family had a housemaid, Margaret Smaill from Haddington and a cook, Jane Davidson from Wigtown.
By 1911 the family had moved back to Glasgow and were living at 18 Eglington Drive (now Cleveden Gardens), Kelvinside, Glasgow. James was still a wholesale wine and spirit merchant and the sisters Nelly and Moira were both single. Alister (23) was working as a merchant's export clerk. The family had three servants, Margaret McFadyen the cook, Lizzie Anderson the housemaid and Marjorie Hinchcliffe the laundrymaid.
Alister was a Territorial with the 7th Cameronians (Scottish Rifles) and first joined a theatre of war on 4th June 1915 en route to Gallipoli, and his record states "Death Assumed on or since 28th June 1915". That date matches the launch of the Battle of Gully Ravine by the Territorial Army's 156th Brigade, 52nd (Lowland) Division which included the 7th Scottish Rifles. The inexperienced soldiers lacked artillery support and were massacred by Ottoman machine gun fire. Despite this, they were ordered to press the attack and the support and reserve lines were sent in. By the time the attack was halted, the 156th Brigade was at half strength and 800 had been killed. Second Lieutenant Alexander Duff is one of the 21,000 names on the Helles Memorial at Gallipoli.
After the war, James and his two daughters Nelly and Moira kept their seven businesses, including Macleay Duff & Co., trading until 1933, when they wound them up. Nelly and Moira were still single. James would have been 84.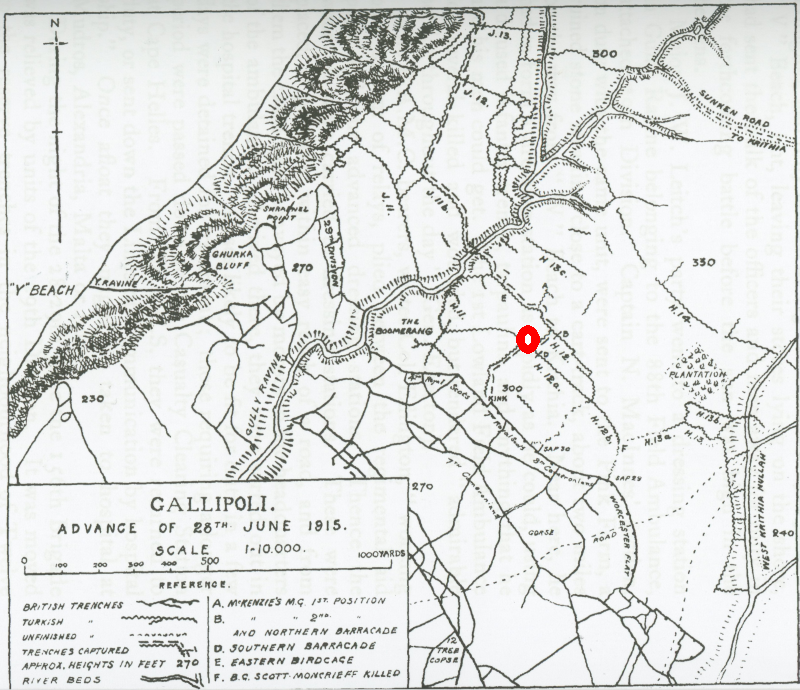 The 156th Brigade of the 52nd (Lowland) Dvision's advance on 28th June 1915, the first day of the Battle of Gully Ravine. Two companies of the 7th Cameronians took a small piece of Trench H12a and were then enfiladed from their right.
---
Siblings
| 1891 Census | | 1901 Census | | 1911 Census | | Birthplace |
| --- | --- | --- | --- | --- | --- | --- |
| Name | Age | Name | Age | Name | Age | |
| Helen | 13 | Helen Jane | 23 | Nelly | 33 | Glasgow, Lanark |
| Moira | 9 | Moira | 19 | Moira | 20 (sic) | Glasgow, Lanark |
| Alister | 3 | Alistair | 13 | Alister | 23 | Bridge of Weir |
---
Sources
Alexander Duff birth certificate 13th August 1887. Regd. Kilbarchan, Renfrewshire 2nd Sept 1887.
1881 UK Census: Parish: Cathcart; ED:9; Page:42; Line:2; Roll: cssct1881_162.
1891 UK Census: Parish: Kilbarchan; ED:10; Page:4; Line:14; Roll: CSSCT1891_185.
1901 UK Census: Parish: Kilbarchan; ED:4; Page:9; Line:24; Roll:CSSCT1901_188.
1911 UK Census: Parish: Partick. Ward: Kelvinside; Page 17; lines 26-33. 644/12 017/00 017.
Glasgow Streets Changed Names accessed 24 January 2014.
Glasgow Evening Times
o 9th July 1915: 7th Scottish Rifles: Lieutenant A. Duff. Second Lieutenant A. Duff, reported missing, is a son of Mr James Duff, of Messrs Macleay, Duff and Co., wine and spirit merchants, 41 Renfrew Street, Glasgow.
The Edinburgh Gazette: 15th September 1933.
Regimental Roll of Honour of the Officers, Warrant Officers, N.C.Os. & Men of The Cameronians (Scottish Rifles)
o Duff, A.: 2nd/Lieut.: : 7th Battalion: Dardanelles, 28/6/15: Bridge-of-Weir.
Unit War Diaries: Mediterranean Expeditionary Force. 1/7th Scottish Rifles 21-5-15 to 28-6-15

ALEXANDRIA. June 8th: Left half battalion paraded 7.30 am & moved off at 7.45 am. Train left at 8.15 am. Battalion on board HMHT EMPRESS OF BRITAIN by 11 am.
ALEXANDRIA. June 9th: Left moorings at 6.20 am.
LEMNOS. June 11th: 11.30 am. Arrived in MUDROS BAY 11.30 am.
GALLIPOLI. June 13th: Headquarters. Machine Gun Section & 533 other ranks left MUDROS in HMS WHITEBY ABBEY at 7.30 pm for HELLAS CAPE. Arrived in Camp at 6 am 14th June.
June 14th: Remainder of battalion 320 all ranks arrived at 7.30 pm on June 14th. Battalion ordered to dig trenches, parading at 8 pm.
June 15th: Nine casualties. Capt W. Mather wounded. One man killed and eight wounded.
June 16th: Nothing to report.
June 17th: Officers visited trenches to be taken over by the Battalion.
June 18th: Battalion on digging fatigue. No casualties.
June 19th: Battalion paraded at 7.45 pm. for the trenches. Owing to an attack being in progress, the battalion had to remain near PINK FARM for the night.
June 20th: Took over the Reserve Trenches from the Hampshire Regt.
June 21st: In the trenches.
June 22nd: In the trenches.
June 23rd: In the trenches.
June 24th: Handed over trenches to Essex Regt. & returned to Rest Camp at 9.30 a.m.
June 25th: Rest Camp.
June 26th: Rest Camp.
June 27th: Went forward to trenches and occupied a reserve line not then occupied by other troops.
June 28th: At 10.45 am moved forward to firing line to support 4th and 7th Royal Scots and 8th S.R. who had assaulted enemy's trenches ahead at 11 am following artillery bombardment lasting from 9 am to 11 am. Leading Coy. reached firing line at 11.20 am (A Coy) followed by D. Coy.

[The diary stops here. The next entry is 19th July 1915.]
Battle of Gully Ravine accessed 24 January 2014.
Medals: Victory, British War, 1914-15 Star.
TO CITE THIS PAGE: MLA style: "Bridge of Weir Memorial". Date of viewing. http://www.bridgeofweirmemorial.co.uk/profile-duff.html