L' CPL JOHN HIGGINS 8TH K.O.Y.L.I.
38504 Lance Corporal John Higgins
8th Battalion, King's Own Yorkshire Light Infantry

killed in action 28th October 1918

aged 28


Tezze British Cemetery, Italy
St Fillan's Church Memorial Window

Son of Peter Higgins and Helen Murray
Cameron Place, Bridge of Weir
Husband of Lilian Smith
St Ronan's, Birmingham Rd, Walsall
---
His Life
Brothers John and Peter Higgins were both killed in World War I. John was born on 15th October 1891 in Bridge of Weir, the second son of Peter Higgins, from Ireland, and Helen Murray, from Bridge of Weir who had formalised their marriage there on 16th July 1886.
In 1891 Peter (27) and Ellen (29) with their first two children, Peter (4) and Agnes, were living at Young's Land, Kilbarchan, Renfrewshire. Peter was a mason's labourer. An aunt, Ellen Dogherty (56), a washerwoman from Kilbarchan, was living with them on the night of the census.
In 1901, the family of eight was living in a two roomed flat in Cameron Place, Bridge of Weir. Peter senior was a jobbing gardener and Peter junior was a labourer in a tanning works.
The family was still in Cameron Place in 1911 and Peter senior was then a currier's labourer. Agnes was a general servant; John (19) was a postman and professional golfer; Helen and Katie were factory workers at Printfield. Peter junior was not in the family home.
John was an assistant Professional at Ranfurly Castle Golf Club and in October 1911 he won the Glasgow and District Professional Golf Association's Autumn Competition. Edward Shedden, another Bridge of Weir professional, was runner-up.
He became club professional at Walsall Golf Club, in Staffordshire and married Lilian Smith there in late 1915. Walsall was another major centre of the leather industry.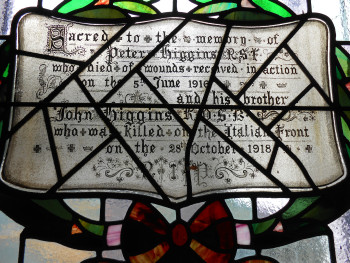 John first enlisted with the King's Own Scottish Borderers as a Private. He achieved promotion to Lance Corporal and by the time of his death he had been transferred to the 8th Battalion of the King's Own Yorkshire Light Infantry. John was killed in action in Italy on 28th October 1918, and he is buried in Tezze British Cemetery. The village of Tezze had been captured by the Austrians in the advance in the autumn of 1917 and remained in their hands until the Allied forces crossed the River Piave at the end of October 1918. The Allied attack east of the Piave began early in the morning of 27th October. The Austrians were forced back over the next few days until the Armistice came into effect on 4th November, just one week after John was killed.
John was the second of the two Higgins brothers to fall. Their names are recorded in a stained glass memorial window in St. Fillan's Church, Houston.
---
Siblings
| 1891 Census | | 1901 Census | | 1911 Census | | Birthplace |
| --- | --- | --- | --- | --- | --- | --- |
| Name | Age | Name | Age | Name | Age | |
| Peter | 4 | Peter | 14 | | | Bridge of Weir |
| Agnes | 2 | Agnes | 12 | Agnes | 21 | Bridge of Weir |
| | | John | 9 | John | 19 | Bridge of Weir |
| | | Nellie | 7 | Helen | 17 | Bridge of Weir |
| | | Kate | 5 | Katie | 15 | Bridge of Weir |
| | | Ann | 2 | Annie | 12 | Bridge of Weir |
| | | | | Jeanie | 10 | Bridge of Weir |
---
Sources
Peter Higgins & Ellen Murray marriage certificate 16 July 1886. Regd Houston, Renfrewshire 19 July 1886.
John Higgins birth certificate, 15th Oct 1891. Regd. Kilbarchan, Renfrewshire 17th October 1891.
1891 UK Census: Parish: Kilbarchan; ED:8; Page:10; Line:19; Roll: CSSCT1891_185.
1901 UK Census: Parish: Kilbarchan; ED:3; Page:22; Line:11; Roll: CSSCT1901_188.
1911 UK Census: Parish; Kilbarchan. Ward: Bridge of Weir; Page 16; lines 15-22
John Higgins & Lilian Smith marriage record 1915
History of Bridge of Weir, W Lyle. 1975.
War Diaries: 8th Battalion, King's Own Yorkshire Light Infantry. W095/4240.

26th October 1918: TREVISO. Marched out 4.40pm, arriving CARITA 6.30 pm, where encamped in bivouacs.
27th October 1918: CARITA. Marched out 7.30 am., under orders of 68th Inf. Bde., and assembled at BUND (CAMATA) in reserve to attacking Battalions. During the afternoon two Coys. assembled in old British front line in readiness to support the attack of 68th Bde.
28th October 1918: BUND. In the morning one Coy crossed PIAVE to support 68th Bde. The remainder of Battalion crossed at 10.30pm, & assembled in C. BENDETTI area at 4am 29/10/18.
29th October 1918: BENDETTI. At 8.30am. the Battalion advanced, in support of 68tth Inf. Bde., arriving CALE DI MARENO, where Battalion billeted.
30th October 1918: CALE DI MARENO. At 5am. Battalion, now retransferred to 70th Bde., resumed its advance, crossed MONTICIANO, & took up position from bridgehead at Pt. K.65 to a point E. of the PONTE DEL MUDA on the southern bank of the MESCHIO at 6pm.
31st October 1918: MESCHIO. At 9am. Battalion resumed its advance, arriving on its objective PESTARULE - S. MICHELE - C. MAZZON at 11am.

Paisley and Renfrewshire Gazette

7th June 1919: IN MEMORIAM: In loving memory of Private Peter Higgins, RSR, who died of wounds received in France, June 5th 1916; also his brother, Lance-Corporal John Higgins KOYLI, who was killed in action in Italy on October 28th 1918-RIP.


Not dead to us, we love them dear;
Not lost but gone before;
They live with us in memory still,
And will forever more.


Inserted by their Father, Mother and Sisters, Cameron Place, Bridge of Weir

St Fillans Church stained glass window:
o Sacred to the memory of Peter Higgins R.S.F. who died of wounds received in action on the 5th June 1916 and his brother John Higgins K.O.S.B. who was killed on the Italian front on the 28th October 1918.
Medals: Victory, British War.
TO CITE THIS PAGE: MLA style: "Bridge of Weir Memorial". Date of viewing. http://www.bridgeofweirmemorial.co.uk/profile-higginsjohn.html