PTE JOHN CLARK 6TH K.O.S.B.
17414 Private John Clark
6th Battalion, King's Own Scottish Borderers

missing presumed dead 25th September 1915

aged 20



Loos Memorial, panel 53 to 56
St Machar's Church Memorial, Bridge of Weir
Freeland Church Memorial, Bridge of Weir

Son of John Clark and Annie Jardine
Kirkinner Place, Main Street, Bridge of Weir
---
His Life
John Clark was born on 7th November 1894 in Locher Terrace, Bridge of Weir, the eldest son of John Clark of Bridge of Weir and Annie Jardine, from Houston who had married in Kilbarchan, Renfrewshire on 28th December 1892 .
In 1901, John (28), Annie (32), and their family of three lived in Commercial Buildings, Bridge of Weir. John senior was a mason hewer and family tradition is that he was responsible for building the stone stair in Freeland Church which provides access to the church balcony.
In 1911 the family, now seven in total, were living in a two-roomed flat in Laird's Land, Main Street, Bridge of Weir. John junior (16) was an office boy at a tannery and William was a message boy in a grocer's shop.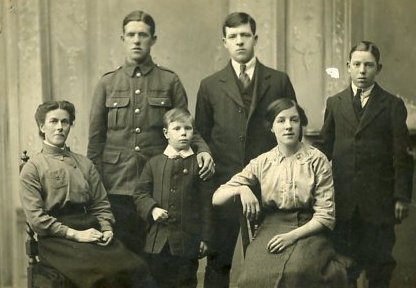 John volunteered for active service in December 1914 when he was 19 years old. He had been following his father's trade as a stonemason. He was enlisted into the 6th Battalion, King's Own Scottish Borderers.
Private Clark first joined the theatre of war on 15th June 1915 in France. The 6th King's Own Scottish Borderers formed part of 28th Brigade, 9th (Scottish) Division and in September 1915 took part in the Battle of Loos.
John Clark was presumed killed although, like 20,000 others listed on the Loos memorial, he was never found. His death was not confirmed to his mother until almost a year later, by which time his father was working in Canada. The official record states that Private John Clark was missing presumed dead on 25th September 1915, the first day of the battle, little more than 100 days after he had arrived in France. The 6th Battalion was almost wiped out that morning in a failed attack on Auchy. There were 650 casualties and only 70 survivors.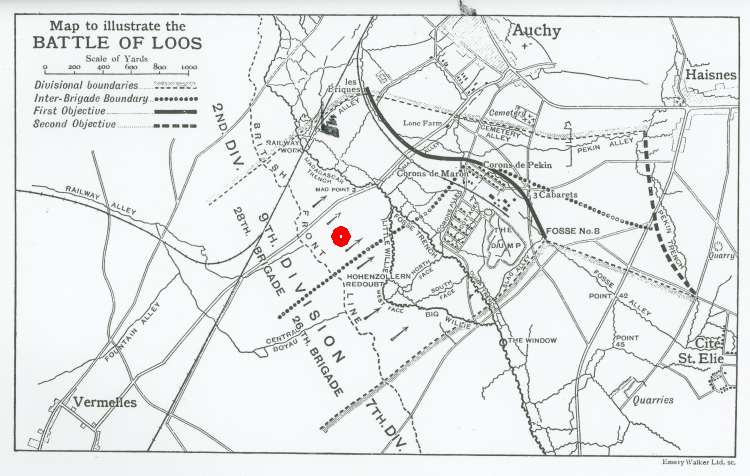 The field of battle where John Clark fell on 25th September 1915. The 6th King's Own Scottish Borderers were in the 28th Brigade, on the right of the 10th H.L.I.
---
Siblings
| 1901 Census | | 1911 Census | | Birthplace |
| --- | --- | --- | --- | --- |
| Name | Age | Name | Age | |
| John | 6 | John | 16 | Bridge of Weir |
| William J | 5 | William | 15 | Bridge of Weir |
| Jessie | 3 | Jessie | 13 | Bridge of Weir |
| | | Matthew | 9 | Bridge of Weir |
| | | Alexander | 3 | Bridge of Weir |
---
Sources
John Clark birth certificate 7th Nov. 1894. Regd. Kilbarchan, Renfrew 24th November 1894.
1901 UK Census: Parish: Kilbarchan; ED:2; Page:5; Line:9; Roll: CSSCT1901_188.
1911 UK Census:Parish: Kilbarchan: Ward: Bridge of Weir. Page 17 lines 18=24. 559/0B 003/00 017.
War Diaries: 6th Battalion King's Own Scottish Borderers. 9th Division, 28th Infantry Brigade. 1 May 1915 - 30 April 1916. WO95/1775/3. National Archives

23 Sep 1915: Battalion in Reserve Trenches at ANNEQUIN. Our Artillery bombardment continued. Weather fine during day, cold at night with some rain.
24 Sep 1915: Battalion returned to trenches (Z.O. Section) in relief of the 11th H.L.I. Captain A.C. Campbell wounded.
25 Sep 1915: Attack by IX Division on enemy's position in front of HAINES [sic]-AUCHY-LES LA BASSEE. The Bn formed right of 28th Bde. with 10th H.L.I. on left. Battn. assaulted German trenches at MAD POINT & S.E. of MADAGASCAR Trench at 6.30 am. The position was reached and at some point entered. Severe machine gun fire chiefly from flanks, undestroyed obstacles & uncertain effects of gas caused severe losses and prevented the attack from succeeding. Bn. reinforced at 9.30 am by 2 Coys. 11th H.L.I. At 12.15 after 2nd bombardment further attack by 28th Brigade ordered. This attack failed to reach the trenches. During rest of day the survivors of the Battn. under senior N.C.O. assisted 11th H.L.I. in manning the trenches and carrying dead and wounded. The Reserve Machine Gun Section under Lt. Evans was placed during the action in support of 9th S.R. Weather very wet. Casualties: Officers-Killed 12, Wounded 8, Missing 0: Other Ranks-Killed 189, Wounded 266, Missing 169, Gassed 6.

History of the Ninth (Scottish) Division 1914-1919. John Ewing. 1921

At 6.30 A.M. the 6th K.O.S.B. and 10th H.L.I. left our front line and advanced in three lines against the German trenches. On the right, the leading companies of the K.O.S.B. pressed forward, at first without suffering very severely. The wind unfortunately was fitful and was not strong enough to carry on the gas, so the leading companies lay down until it had moved on. As soon as the two supporting companies crossed our front parapet, they came under a withering rifle and machine-gun fire, but in spite of many casualties they continued to push on and became mingled with the leading companies. More conspicuous now than the crash of the guns was the menacing and ominous "rat-tat" of the enemy machine-guns, and when the K.O.S.B. resumed their advance, officers and men were mown down by a terrible fire, to which they could not reply.

Paisley and Renfrewshire Gazette

26th December 1914: Roll of Honour John Clark jnr, Main Street, K.O.S.B.
15th November 1915: WOUNDED AND MISSING: Mrs. Clark, Main Street, has received word from the War Office, that her son John (K.O.S.B.) 6th Battalion has been reported as missing. It is thought that he was in the big battle of 26th September. He joined the Colours and was a mason previously.
16th September 1916: Intimation has been received by Mrs. John Clark, Campbell's-land, regarding her son, Private John Clark (17414), 6th K.O.S.B., who was reported as missing on 25th September last year, as having died on that date, no further news of him having been obtainable by the military authorities since then. Private Clark was 20 years of age, and a son of Mr. John Clark, mason, who is at present in Canada.
27th September 1919 - IN MEMORIAM: In loving memory of my dear Brother, Private John Clark, K.O.S.B., presumed killed in action on 25th September 1915. Inserted by Jessie.
27th September 1919 - IN MEMORIAM: In loving memory of John Clark jnr., K.O.S.B., presumed killed at Loos, 25th September, 1915. Inserted by his parents.
TO CITE THIS PAGE: MLA style: "Bridge of Weir Memorial". Date of viewing. http://www.bridgeofweirmemorial.co.uk/profile-clark.html