PTE WM R KEITH 8TH A.&.S.H.
202643 Private William Robertson Keith
1st/8th Battalion, Argyll & Sutherland Highalnders

killed in action 23rd July 1918

aged 20


Soissons Memorial
St Machar's Church Memorial, Bridge of Weir
Kilbarchan Cemetery

Son of Hugh Keith and Mary Nelson
Kaimhill Cottages, Bridge of Weir
---
His Life
William Robertson Keith was born on 22nd May 1898 at Kaimhill, Bridge of Weir, one of a family of nine born to Hugh Keith originally from Bowmore, Islay and Mary Nelson from Lochwinnoch, Renfrewshire who had married in Lochwinnoch, Renfrewshire on 11th January 1887.
Hugh and his three brothers were all blacksmiths at North Gates, Lochwinnoch in the 1881 Census but Hugh must have decided to change jobs after he married. In 1891 Hugh (34), Mary (27) and their first two children, also Hugh and Mary, were living at Burnfoot Farm, Kilbarchan where Hugh was the farmer. They were employing Archibald McFadyen, a ploughman from Islay, who was also lodging with them.
By 1901 the Keith family, now ten in total including William (2), had moved to a 5-roomed house at Kaimhill Cottages, between Bridge of Weir and Crosslee, and Hugh was now a railway contractor's foreman.
In 1911, the Keith family was still at Kaimhill Cottages, but Hugh senior was a navvy ganger in the sewerage industry. Hugh junior and Mary were no longer in the family home. All of the remaining children except young Donald (3) were at school, including the eldest, Bessie (19).
William Robertson Keith's Record of Service states that he enlisted at Paisley on 14th February 1917 when he was aged 18 years and 9 months. He had been working as a labourer for 2 months, previously a farm servant. William's preferred regiment had been the Cameron Highlanders but he was enlisted as a Private in the 5th (Reserve) Battalion, Argyll and Sutherland Highlanders. On 4th July 1917 he was posted to the 1st/8th Battalion A.&.S.H. and joined the British Expeditionary Force in France; Two weeks later he was posted under Army Order 204/16 to the 11th (Service) Battalion, A.&.S.H. Between March and June 1918 he had been treated in hospital variously for dermatitis, scabies and gastro-enteritis. On 9th June 1918 he was posted to the 1st/8th battalion A.&.S.H., by then part of the 15th (Scottish) Division which was sent to replace battle-weary American forces in the counter-attack of the Battle of the Aisne and replaced them on the night of the 22/23rd July. The Battalion war diaries describe a night of heavy losses to shelling and machine gun fire. The French Commander was so impressed by the 15th Division's fighting spirit in the battle that followed that he ordered a memorial to be built immediately, the only one built in the war by a French unit dedicated to a British one:

Here will flourish forever the glorious thistle of Scotland among the roses of France
- the 17th French Infantry Division to the 15th Scottish Infantry Division.
Private Keith was killed on 23rd July 1918 in a "gallant attempt to bring in a wounded man". His name is recorded on the Soissons Memorial about 100km north-east of Paris. The Memorial commemorates almost 4,000 officers and men of the United Kingdom forces who died during the Battles of the Aisne and the Marne in 1918 and who have no known grave.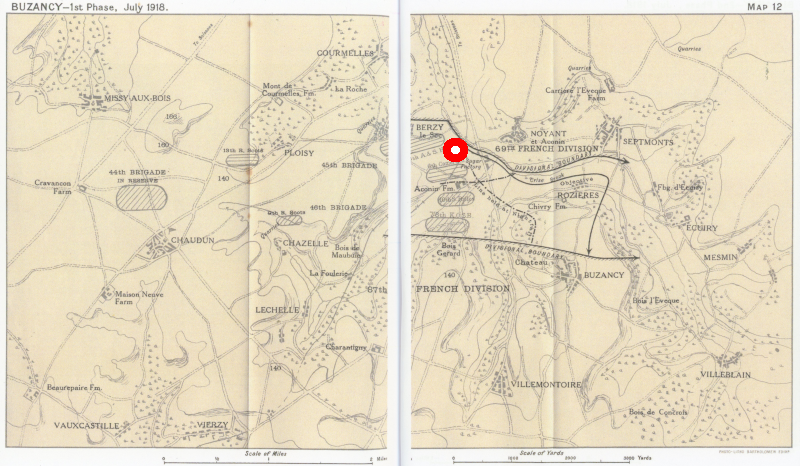 The field of battle where William Keith fell on 23rd July 1918. The 1/8th Argyll & Sutherland Highlanders were on the left flank of the divisional boundary. The red circle shows their furthest advance that day.
---
Siblings
| 1891 Census | | 1901 Census | | 1911 Census | | Birthplace |
| --- | --- | --- | --- | --- | --- | --- |
| Name | Age | Name | Age | Name | Age | |
| Hugh | 3 | Hugh | 13 | | | Lochwinnoch, Renfrewshire |
| Mary | 1 | Mary | 11 | | | Lochwinnoch, Renfrewshire |
| | | Bessie | 9 | Bessie | 19 | Bridge of Weir |
| | | Nellie | 7 | Nellie | 16 | Bridge of Weir |
| | | Jessie | 6 | Jessie | 15 | Bridge of Weir |
| | | Alice | 4 | Alice | 14 | Bridge of Weir |
| | | Wm R | 2 | William | 12 | Bridge of Weir |
| | | John H | 4 mo | John | 10 | Bridge of Weir |
| | | | | Donald | 9 | Bridge of Weir |
---
Sources
William Robertson Keith birth certificate, 22nd May 1898. Regd Bridge of Weir, 30th May 1898.
1881 UK Census: Parish: Lochwinnoch; ED:5; Page:12; Line:2; Roll: cssct1881_169.
1891 UK Census: Parish: Kilbarchan; ED:6; Page:7; Line:5; Roll: CSSCT1891_185.
1901 UK Census: Parish: Kilbarchan; ED:2; Page:26; Line:20; Roll: CSSCT1901_188.
1911 UK Census:Parish: Parish: Kilbarchan & Bridge of Weir. Ward: Bridge of Weir; . Page 1; lines 5-13. 559/0B 002/00 020.
Service Record: William Robertson Keith:
o 5'4"; 124lbs. Good physical development.15 Platoon, D Company at time of death
Divisional History: The Fifteenth (Scottish) Division 1914-1919. J. Stewart and John Buchan. 1926.

Isolated from the British Army, the Division was now in close support of the French and American troops, then engaged in attacking the heights between Tigny and Belleu. So far the combined attack had been a complete success, but losses had been heavy, and fresh battalions were required to exploit the advantage already gained.
General Reed received short notice that the Division would be required. At 9.20 P.M. on the 22nd, Corps orders arrived to the effect that the 10th French Army would resume the offensive on the morning of the 23rd, and that the Fifteenth, taking over from the 1st (American) Division (General Summerall), would attack the enemy positions between Berzy-le-Sec and the north-west corner of Buzancy, adding that zero hour would be 5 A.M.
Under such conditions it was impossible to make anything like a proper reconnaisance of either the line to be taken over or of the position to be attacked. This proved unfortunate, as will be seen later. Never did the Division carry out such a relief, for little or no information could be obtained from the relieved troops. The following is an instance of what took place that night. An officer of the 1/8th Argylls took over a portion of the line south of Berzy village. He met the officer commanding the French company he was to relieve, who, standing in the darkness, pointed in various directions, and said, "Mitrailleuse la, et la, Boche la. Moi, je vais." And he went, without another word!...
The objective of the right brigade, the 46th, was the village of Rozières and the high ground between that village and Buzancy. The task of the left brigade, the 45th, was the capture of Le Sucrerie, south-west of Noyant, and the crossings of the river Crise east and north of it. In reserve was the 44th Brigade, just east of Cravancon.....
The 45th (Brig.-General N.A. Orr Ewing) attacked with the 6th Camerons on the right and 8th A. & S. Highlanders on the left, the 13th Royal Scots remaining in reserve south of Ploisy...At 5 A.M. on the 23rd the assault began, and was at once held up by heavy machine-gun fire from nests of guns overlooked by the barrage. In addition, the barrage itself was poor, and in fact the left of the 10th Scottish Rifles was not covered by it at all. This was due to the fact that the Franco-American front line was supposed to be some 600 yards in advance of what it actually proved to be, with the result that the barrage fell far behind the actual German front line.
On the left the 45th Brigade had also suffered severely. The Camerons had captured the Sucrerie, and then, finding their left flank exposed, gradually extended their line northwards until they held the whole of the 45th front as far as the railway crossing over the Crise, Lieutenant Fraser being in command of the left post of the Camerons at this point.
Farther north the Argylls had met with bad luck. Owing to heavy enemy shelling during the relief, the short notice given to them, and trhe extraordinary manner in which this part of the line had been handed over, very little was known of the two companies in the front line. Many of the runners had been killed, and in some instances orders for the attack never reached the front line before zero hour. Eventually it was found that "A" Company on the right had been able to advance a short way down the forward slope east of Berzy, but it had ultimately to come back and take up a position about 100 yards in advance of its original line. Even here it suffered heavy losses owing to lack of cover. On the extreme left, what remained of the "B" and "D" Companies had concentrated in the western outskirts of Berzy during the morning, and were in touch with the French troops on their left. On this flank the situation was obscure for most of the day, and it was largely due to the intrepidity of Lieutenant R.L. MacKay, 8th A. & S. Highlanders, that accurate information regarding the situation was ultimately received. This officer, together with his runner, Private Langridge, went forward and searched the whole of his battalion front, being most of the way in full view of the enemy and returned with a full report of the situation...
About 10 A.M. it was discovered that neither of the French Divisions on the flanks had been able to advance, and both flanks of the Fifteenth were consequently in the air. To remedy this a company of the 10th Scottish Rifles, who had not lost as heavily as had other battalions, was placed at the disposal of the O.C. 7/8th K.O.S.B. to form a defensive flank on the right, whilst on the left the Argylls held the left flank of the Division. [footnote] On this occasion the 7/8th K.O.S.B. lost 4 officers killed, 10 wounded; 32 other ranks killed, 214 wounded, and 63 wounded and missing, whilst the Argylls lost almost as heavily....
When night fell the Divisional front line ran as shown on Map 12 [above]. Under cover of darkness both the 45th and 46th Brigades relieved their front-line battalions. On the right the 9th Royal Scots took over the whole of the 46th Brigade line, whilst the 13th Royal Scots did the same on the 45th front, both reliefs being complete before dawn.

War Diaries: 1/8th Bn., Argyll and Sutherland Highlanders; 45th Brigade, 15th Division. March, 1918 - Nov 1919. WO95/1944/1. National Archives

VERTE FEUILLE Farm. See Map B2: 23rd July 1918:
1.30am. Reserve Coy in position (see Map)
2.15am. All Coys informed of zero hour.
3.0am. Coys got into positions as shown on attached map the 2 front Coys intending to mpve forward from there to conform with instructions given verbally & contained in Appendix 'A'.
3.15am. Left front Coy Commander buried(?) & went down the line. Patrol Platoon - see Appendix A - moved out. Right front Coy heavily shelled and disorganised. Patrol Platoon moved out but was unable to proceed on account of shelling. The two remaining officers including OC Coy wounded.
4am. Operation Orders sent out (No copy) received by Reserve Coy 4.30am. Runner with forward Coys orders killed, not known till 9.30am.Cutting in which Left Front Coy Support Coys 3 Platoons were was heavily shelled, owing to Left Front Coy not moving forward. O.C. Support Coy withdrew his 3 platoons in Cutting to join his Support Platoon on Forward Slope. Heavy shelling of whole valley continued from this time onwards.
5am. An officer sent from Battalion Hdqrs to join Rt Frwd Coy arrived 5am. found no officers. Casualties heavy & whole Coy spread in Area (as shown on Map) in small groups.
5.30am. No acknowledgement received for O. Orders. Copy sent out. Runner unable to gain touch with Coys.
6.0am. Left Front Coy tried to get forward & cost heavily from artillery & M.G. fire.
6.10am. Continued & very heavy artillery fire on whole Battalion area forward of ridge. Slightest movement observed & countered with heavy artillery & M.G. fire. All efforts of Front Coys to get forward frustrated. Artillery fire coming from direction of SOISSONS, from Valley N.E. of NOYANT & from direction of S.E. of NOYANT. The calibre was heavy & appeared to be at very short range. The observation must have been exceptional. Pairs of men coming over the ridge or attempting to move down the slope being immediately harassed by the most accurate fire. M.G. fire was heavy on all movement & on roads & came from slope opposite. One M.G. nest was spotted on a truck in the station due E. of BERZY. Right Front Coy (until 10am.) was continually harassed by a M.G. nest in wood in valley on this side of railway about 96.07. This was not reported to Bn Hdqrs during operations as the OC Rt. Front Coy after having 2 runners killed 5 yds outside his Coy HQ with 2 consecutive messages, decided it was impossible to get information back.
10.30am. First news received from Forward Coys by runner & by Officers Patrol sent forward. All 3 Coys lost heavily. Left Flank post of 6th Camerons reported to be at STATION just N. of SUCRERIE. Orders issued that OC Support Coy must take command of 3 Forward Coys & from them push out very small posts on line STATION LA TURBINE.
11-12. Elements of Left Forward Coy were withdrawn to Support Coy in order to carry out the move. Artillery concentration on guns round SOISSONS & directly EAST of Valley asked for during this adjustment.
12.30pm. Artillery quieter. Move attempted by very small body. Artillery immediately opened. Coy Commander wounded & other casualties. Move abandoned. Shelling for first time included Gas Shelling. Respirators worn by one Coy.
2.30pm. Caves found by Rt Front Coy & most of Garrison got in. Posts put out on forward slope in Right Front Coy Area.
2.30pm. Information of abandonment of 12.30pm move received. Orders issued to all Coys to stand fast till dark unless artillery decreased, information having been received by a valuable patrol of Lt. R.L. Mackay MC that the line on our Battalion Front was held by a Company of the 6th Cameron Highrs. Battalion stood fast till relieved by 13th Royal Scots (complete 1.30am 24 7.18)

Paisley and Renfrewshire Gazette
o 17th August 1918: Mr Hugh Keith, Kaimhill, has received intimation of the death in action of his son Private William Robertson Keith, A. & S.H. In a letter of sympathy to his parents, an officer states that Private Keith lost his life in a gallant attempt to bring in a wounded man. The area in which the wounded soldier was being heavily bombarded by the enemy, who had retreated from that position. The writer speaks in high terms of the soldierly qualities of Private Keith, his coolness under shell fire and his bright cheerful disposition.
St Machar's Church of Scotland Death and Interment Register:
o Keith, William Robertson; Pte. A. & S.H.; Kaimhill; Killed in Action 23 July 1918.
Kilbarchan Cemetery Monumental Inscription:
o In memory of HUGH KEITH who died at Kaimhill 23rd Aug. 1928 aged 74 his son WILLIAM ROBERTSON KEITH Pte. Arg. & S. H. killed in action at Buzancy, France 23rd July 1918 aged 20 also MARY NELSON wife of the above HUGH KEITH died 14th March 1931 aged 66 their daughters JESSIE died 12th Oct. 1967 aged 71 MARY died 25th Oct. 1967 aged 77 ELIZABETH died 16th Feb. 1971 aged 78.
Medals: Victory, British War.
TO CITE THIS PAGE: MLA style: "Bridge of Weir Memorial". Date of viewing. http://www.bridgeofweirmemorial.co.uk/profile-keith.html