PTE HENRY D STRANG 16TH H.L.I.
14773 Private Henry Drysdale Strang
---
His Life
Henry Drysdale Strang was born on 30th September 1897 at 10 Rothesay Gardens, Partick, Glasgow, the second child born to Peter Strang, a bank clerk from Barrhead, Renfrewshire and Janet Scobie, from Glasgow who had married in Blythswood, Glasgow on 1st September, 1893.
In 1901 Peter (41), Janet (41), and two children Alice M and Henry D (3) were living in 1 St George's Terrace, Bridge of Weir. The family employed a general domestic servant, Jean Clydesdale (63) from Glasgow.
In 1911 the Strang family was still in 1 St George's Terrace in Bridge of Weir and Henry (13) was at school.
Henry Strang volunteered for service and was enlisted into the 16th (Service) Battalion (2nd Glasgow) HLI, commonly known as the Glasgow Boys Brigade Battalion which had been formed in September 1914.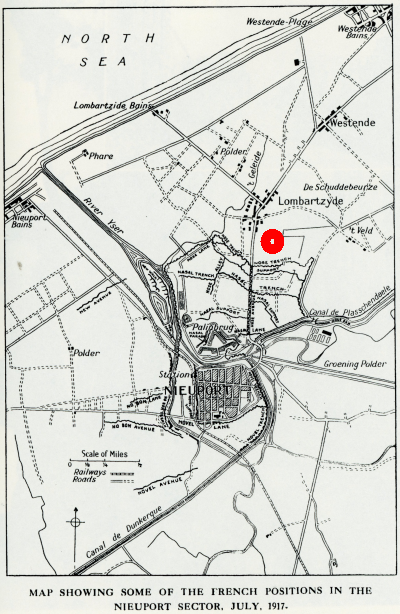 After training in Gailes Camp, Prees Heath in Shropshire, Wensleydale and Codford, the battalion and its division was adopted by the War Office on 1st July 1915 and first joined the theatre of war in France on 23rd November 1915. Henry was 18 years and 2 months old when he landed at Boulogne. This was 10 months below the minimum age for serving abroad. He, like many other boys of the time, must have lied about his age in order to be able to join up.
The 16th H.L.I. formed part of 97th Brigade, 32nd Division which fought in the Battle of the Somme in 1916, at Albert, Bazentin and the Ancre. In 1917 16th HLI spent time in Brigade Reserve, in various billets in northern France. In April 1917 it was back in the front line and took part in a successful operation capturing many prisoners near Saint Quentin. May and June were spent marching to the coast near Dunkirk and then to Nieuport in Belgium, back to front line duties including harassment, skirmishing and raiding of enemy trenches.
Henry Strang died on 6th July 1917. The war diary reported two other ranks killed and one wounded and missing on 5th July, the day after a raid on enemy trenches, and another wounded on 6th July. Henry was probably one of those. He is buried in Ramscappelle Road Cemetery in Nieuwpoort. He was 19.
---
Siblings
| 1901 Census | | 1911 Census | | Birthplace |
| --- | --- | --- | --- | --- |
| Name | Age | Name | Age | |
| Alice M | 5 | Alice M | 15 | Partick, Lanarkshire |
| Henry D | 3 | Henry D | 13 | Partick, Lanarkshire |
---
Sources
Wasted Journey, The Buddies who never came back. Paisley Library. 940.467; PC17430: O/S
Henry Drysdale Strang birth certificate, 30th Sep 1897. Regd Partick, Lanark 16th Oct 1897.
1901 UK Census: Parish: Kilbarchan; ED:3; Page:10; Line:14; Roll: CSSCT1901_188.
1911 UK Census: Parish: Kilbarchan & Bridge of Weir. Ward: Bridge of Weir; Page 4; lines 16-19. 559/0B 003/00 004.
History of the 16th H.L.I. Thomas Chalmers. 1930.
"This raid," writes the Intelligence Officer, "was carried out by a special party, consisting of three officers and 34 other ranks. The dress was rifle and bayonet with ten rounds in the magazine, and two clips in left pocket. One N.C.O. and six men to form blocking party carried six Mill's No. 5 grenades per man in bucket as reserve. Steel helmets were worn and faces blackened. All identification marks were removed and no papers or maps were carried.
"The main party took up position at Boterbeek Brook, running parallel to our front at a distance of 20 yards, at 1.15 a.m. No Man's Land at this point is about 80 yards wide, in good condition but for shell holes, covered with long grass.
"Zero time was at 1.45, at which hour the artillery bombardment opened on the German front line. At 1.48 the bombardment ceased and the raiding party advanced in single file to the gap in enemy wire already reconnoitred at point 'A.' This gap was about three yards wide. As the party entered it a shell burst close by, causing caualties, one killed and one seriously wounded. This caused a temporary delay while the gap was cleared.
War Diaries, 16th (Service) Battalion, Highland Light Infantry: WO95/2403 National Archives.

5th July 1917: In Brigade Support NIEUPORT. Casualties - Killed 2 O.R., wounded and missing 1 O.R.
"A" Company carried out a successful raid on enemy trenches at point M.23.a.3.4. Operation Orders and report are attached as Appendices 1 and 2.
6th July 1917: In Brigade Support NIEUPORT. Casualties - wounded 1 O.R.
7th July 1917: In Brigade Support NIEUPORT. The following reinforcements joined the Battalion on this date:- 2nd Lieut. C.N. RUTHERFORD; 2nd Lieut. M.M. WOTHERSPOON; From 5th H.L.I., 33 Other Ranks.
8th July 1917: The Battalion relieved the 2nd Bn. K.O.Y.L.I. in LOMBARDZYDE Sector, Right Subsector. Relief complete 11.30 p.m. Casualties - Killed 1 O.R., Wounded 5 O.R.

Medals: Victory, British War, 1914-15 Star.
TO CITE THIS PAGE: MLA style: "Bridge of Weir Memorial". Date of viewing. http://www.bridgeofweirmemorial.co.uk/profile-strang.html