PTE ROBERT BURNS 10TH L.FUS.
41975 Private Robert Burns
10th Battalion, Lancashire Fusiliers

killed in action 12th May 1917

aged 20


Arras Memorial
St Machar's Church Memorial, Bridge of Weir



Gryfe Castle Cottage, Bridge of Weir
Son of James Burns and Margaret Jaffray
---
His Life
Brothers James and Robert Burns were both killed in World War I. Robert was born on 5th October 1896 at 48 Woodside Terrace Lane, Glasgow, the son of James Burns, from Fenwick, Ayrshire and Margaret Jaffray from Mid Mar, Aberdeenshire who had married in Kinning Park, Glasgow on 15th January 1892.
In 1901 the Burns family of four was still living in Woodside Terrace Lane. James senior was a domestic coachman. James junior was at school and Robert was 4 years old.
In 1911, James, Margaret and Robert (14) were in 43 Claremont Terrace Lane, Glasgow. James was a domestic chauffeur, and Robert was still at school. His elder brother James was a domestic groom for the Ogilvie family in Corsliehill House, Houston, Renfrewshire.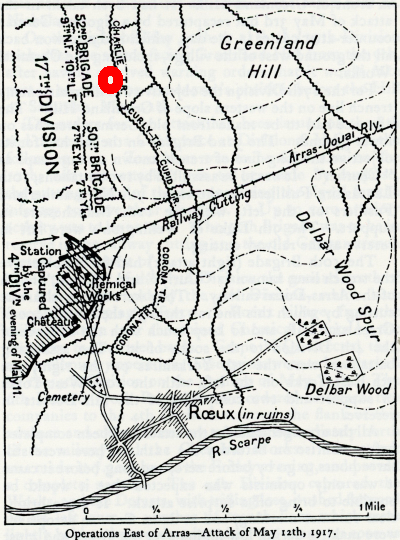 Before he enlisted, Robert was living in Gryfe Castle Cottage, Bridge of Weir.
Robert Burns enlisted at Paisley. His Medal Roll Index Card does not state the date that he entered the theatre of war, but does confirm that he enlisted in the Army Service Corps as a driver and was later transferred to the 10th Battalion, Royal Lancashire Fusiliers, which came under orders of 52nd Brigade, 17th (Northern) Division. (Note that his Medal Roll Index Card has regimental number 41795, whereas the Commonwealth War Grave Certificate has 41975).
The 17th Division fought in the Battle of Arras, a British offensive from 9th April to 16th May 1917, by the end of which the British Empire Forces had made significant advances but failed to make a breakthrough. The Empire lost over 150,000 men in the offensive.
Robert survived the Division's involvement in the First and Second Battles of the Scarpe. He was killed on 12th May 1917 in the lead up to the Capture of Roeux.
He was the first of the two Burns brothers to fall, and is remembered on the Arras Memorial. He was 20 years old.
---
Siblings
| 1901 Census | | 1911 Census | | Birthplace |
| --- | --- | --- | --- | --- |
| Name | Age | Name | Age | |
| James | 7 | James* | 18 | Mauchline, Ayrshire |
| Robert | 4 | Robert | 14 | Glasgow, Lanark |
* = not in James and Margaret Burns family home - see text for details
---
Sources
UK, Soldiers Died in the Great War, 1914-19
Robert Burns birth certificate, 5th Oct 1896. Regd Kelvin, Glasgow 12th Oct 1896.
1901 UK Census: Parish: Glasgow Park; ED:43; Page:15; Line:6; Roll: CSSCT1901_299.
1911 UK Census
Divisional History: 17th (Northern) Division. A. Hilliard Atteridge. 1929.
On the night of May 10th to 11th the 17th Division took over the sector facing Greenland Hill from the 9th, after having received warning orders that it would take part in an attack on the enemy's position before the Hill on Saturday, May 12th...
[For the attack on the morning of the 12th] the 17th Division objective was the main enemy trench line on the western slope of Greenland Hill. The advance had to be made from old German trenches on lower ground. The 52nd Brigade on the left had for its objective the long line of trench known on our maps as "Charlie." It was to be assaulted by two battalions, 10th Lancashire Fusiliers on the right, 9th Northumberland Fusiliers on the left, with the 12th Manchesters in support. The 9th Duke of Wellington's were left in reserve at the railway cutting....
All the arrangements for the attack had been completed before sunrise on Saturday the 12th. There were still three hours to go by before zero, and long before it came it was only optimists who expected that it would be possible to bring off a surprise attack. It was a bright clear summer morning, and at dawn German aeroplanes were making daring low flights over our front, and must have had no difficulty in finding out that the forward trenches were full of infantry ready to advance. The German gunners showed no unusual activity, but there was ample time to make preparations for meeting our attack, and the enemy were quite ready for it.
At 6.30 our barrage was put down on the enemy's front, with a creeping barrage to cover the move across No Man's Land, which was from 100 yards to a quarter of a mile wide. As our guns opened fire the enemy put down a heavy counter-barrage, and the advance was at once wrapped in such a dense fog of smoke and dust clouds that from the observation posts behind our front it was for a while impossible, even with field glasses, to make out what was happening.
The left attacks on Charlie and Curly Trenches were a failure. The advance came under heavy fire of all arms, inflicting serious loss, and only one company of the Lancashire Fusiliers got into the south end of Charlie. With their flanks in the air they were counter-attacked and driven out in about twenty minutes. The losses of the three companies of the Lancashires that made the assault were 11 officers and 182 other ranks killed and wounded. Their gallant leader, Major David Comyn, was among the dead.
War Diaries: 10th Lancashire Fusiliers. WO 95/2012/1. National Archives.

HAUTE AVESNES: 1st May 1917: Bus to HAUTE-AVESNES.
2nd May: March to 9.17.a (St NICHOLAS) The Battn remained in Brigade Reserve and was employed chiefly in working and carrying parties till the 8th when it moved up into Brigade Support.
9th/10th May: In support in a railway cutting.
11th May: Battn relieved 9th (S) Bn W.R.R. in trenches S.E. of GAURELLE and the following morning attacked at 6.30 am CHARLIE TRENCH. A Company under Capt BARROW and part of B under Major COMYN succeeded in effecting an entrance but were driven out by strong hostile bombing parties. The Battn suffered the following casualties: 13 OFFICER - 226 O.R.s.

St Machar's Church of Scotland Death and Interment Register:
o Burns, Robert; Private 10th Lanc. Fusiliers; Gryfe Castle Cottage; Killed in Action 12 May 1917; aged 20.
Medals: Victory, British War, Star.
TO CITE THIS PAGE: MLA style: "Bridge of Weir Memorial". Date of viewing. http://www.bridgeofweirmemorial.co.uk/profile-burnsrobert.html