L' CPL JOHN HOLMES 10 TH A.&.S.H.
S/15343 Lance Corporal John Holmes
10th Battalion, Argyll and Sutherland Highlanders

died of wounds 11th April 1917

aged 20


Aubigny Communal Cemetery Extension
St Machar's Church Memorial


Son of Alexander Holmes and Margaret Laird
Mount Pleasant, Bridge of Weir
---
His Life
John Holmes was born on 3rd November 1896 at Burngill, Bridge of Weir, the eldest of a family of at least five born to Alexander Holmes, a journeyman mason from Lochwinnoch, Renfrewshire and Margaret Johnstone Laird, from Gourock, Renfrewshire who had married in Govan, Glasgow on 14th August 1896.
In 1901 Alexander (28), stonemason, Maggie (28), and their first three children John (4), Hugh and Alexander were living in Main Street, Bridge of Weir.
In 1911, the Holmes family of seven was living in two rooms in Burngill, Bridge of Weir. John (14) was an office boy in a leather works. The children who were old enough were at school.
John Holmes volunteered on 26th November 1915, soon after his 19th birthday, by which time he was living in Mount Pleasant, Bridge of Weir and was a clerk with the General Electric Company in Waterloo Street, Glasgow. On 5th December he was enlisted as a Private in the 15th Battalion, Argyll and Sutherland Highlanders.
From 12th July 1916 he was in France, and on 27th July was transferred to the 10th Battalion which then formed part of 26th Brigade in the 9th (Scottish) Division, which had lost 314 Officers and 7,203 other ranks between 1st and 20th July in the first three weeks of the Battle of the Somme. The Division returned to action in the Battle of Le Transloy from 1st - 18th October 1916, one of the later Somme offensives. On 20th December 1916 Private Holmes was promoted to Lance Corporal (unpaid). The 10th Argylls took part in the Battle of Arras in April 1917. On 9th April, the first day of the battle, they successfully took their objectives including the village of Athies to the north east of Arras. But the cost was 16 killed, 64 wounded, one of whom was John Holmes. He died of wounds two days later on 11th April 1917 in No. 30 Casualty Clearing Station, Aubigny, Pas de Calais, France. His commanding officer had erroneously reported him killed on 9th April 1917. He was buried at Aubigny.
His mother had to acknowledge receipt of the following items of private property: Photos, Correspondence, Testament, Pocket Dictionary, Cigarette Case, 2 Coins, Pipe, Prayer Book, 1 Belt with Cap Badge and Numerals attached. His younger brother Hugh Laird Holmes was still serving with the Army in Constantinople in 1919.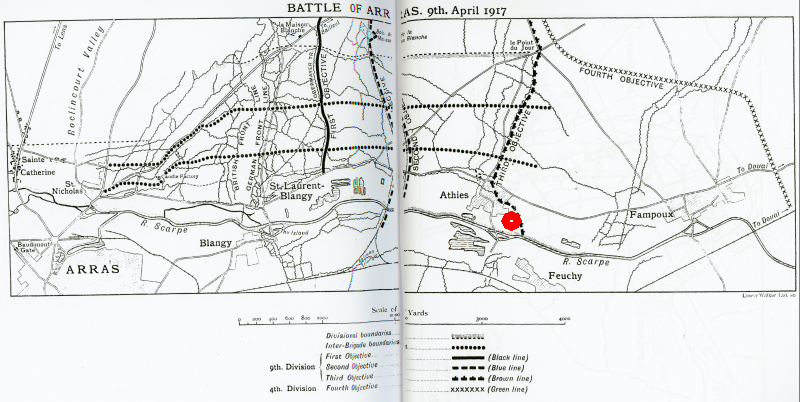 The 9th Dvision's advance on the first day of the Battle of Arras. The furthest advance of the 10th Argyll & Sutherland Highlanders is shown by the red circle. John Holmes received his fatal wounds that day.
---
Siblings
| 1901 Census | | 1911 Census | | Birthplace |
| --- | --- | --- | --- | --- |
| Name | Age | Name | Age | |
| John | 4 | John | 14 | Bridge of Weir |
| Hugh | 3 | Hugh L | 13 | Bridge of Weir |
| Alexander | 2 mo | Alexr | 10 | Bridge of Weir |
| | | Eliza | 7 | Bridge of Weir |
| | | Margaret | 1 | Bridge of Weir |
---
Sources
Wasted Journey, The Buddies who never came back. Paisley Library. 940.467; PC17430: O/S.
John Holmes birth certificate, 3rd Nov. 1896. Houston & Killellan. Regd. 10 Nov 1896.
1901 UK Census: Parish: Houston; ED:1; Page:1; Line:14; Roll: CSSCT1901_188..
1911 UK Census: Parish: Houston & Houston West. Ward: Bridge of Weir. Page 15; lines 20-26. 559/0B 0013/00 015.
John Holmes Army Service Record from 26th Nov 1916:
Ht 5'4"; Wt. 119lbs; Chest 36"; Good physical development
Paisley and Renfrewshire Gazette

11th December 1915: More new recruits; John Holmes, Mount Pleasant, 15th A&SH.
19th May 1917: Intimation has been received by his parents of the death from wounds received in action of Lance Corporal John Holmes Lewis Gun Section A. & S.H., which occurred on 11th April. Lance Corporal Holmes previous to his enlistment in November 1915 was employed with the General Electric Co., Waterloo Street, Glasgow. - He was 20 years of age and had been at the front for 9 months.
12th April 1919: DEATH: In loving memory of Lance-Corporal John Holmes, who died of wounds at C.C.Station, France, on 10th April, 1917 - Sadly missed. Mount Pleasant, Bridge of Weir.

War Diaries: WO95/1768/1 10th Argyll & Sutherland Highlanders. May 1916-Dec 1917. National Archives

BATTLE OF ARRAS: 9 Apl 1917. ZERO. Assault commenced - Our troops moved off from Assembly Trenches and went over the Parapet -
5.30 am. Enemy appear to have detected nothing beforehand - The Bombardment restarted punctually amd enemy put up his S.O.S. (Orange Clusters) in great numbers along the line - retaliation slight - 4 tanks moved in the wake of Infantry at Zero - Batt HQ in Battle HQ Spring Avenue -
6.30 am. Report received BLACKLINE captured up to time and reorganising for attack on BLUE LINE.
7.0 am. Orders sent to C & D Coys to move forward by Coys to vicinity of SANITATS CRABEN but if Barrage heavy to remain in first German Line -
7.20 am. Moved Batt HW to Eastern end of SPRING TRAMWAYS - Message received from B. Coy that Lt. MACKIE was wounded and that he was taking command and moving in support of BLACK WATCH 2/Lt. BEATTIE wounded to ????.
7.40 am. Notes sent to C & D Coys that they will get in touch with O.C> BLACK WATCH in event of his requiring further support. Message received from Brigade that 2 8ins T.M.B. are to report to 7th SEAFORTHS to assist in clearing enemy out of LAURENT BLANGY and that when village is later VS, Sub-Section will return to O.C. A & S Hrs. at SANITATS GRABEN.
8.5 am. Message received from "A" Coy "Enemy Trenches unrecognisable moving on to BLUE LINE in support BLACK WATCH - 61 strong"
8.30 am. Message received from "C" Coy "In position SANITATS GRABEN in touch with D Coy and left flank. No casualties"
8.35 am. Message received from "D" Coy that BLACK WATCH have ordered them up to reinforce on BLUE LINE as BLACK WATCH is held up. This was only momentary and BLUE LINE was captured up to time. The wire in front of BLUE LINE was untouched and would have been a formidable menace if it had been completed but the Troops got through it fairly easily. Enemy were seen making off so Lewis Guns were pushed forward in Railway Embankment which caused many enemy casualties. The BLUE LINE was found to be a position of great strength, the Dug Outs were concreted, dug into the Embankment and immune from shellfire. The enemy must have been panic stricken to have given up such a position which should have held a large force at bay for a long time - a Colonel Commandant of Artillery & 3 Artillery Officers were captured and a few other prisoners taken - A 77mm gun & team complete were captured by A Coy, Serg. MACLENNAN alone killing with ???? rifle or bayonet 15 of the enemy. The battalion captured about 100 prisoners, they were so demoralized that they gave themselves up voluntarily and in some Dug Outs ham and eggs were found on the table cooked and which were promptly devoured by our men -
It appears they imagined this attack was to take place on the 15th and that when it started it was taken to be only a raid. The PARROTS BEAK which had given us so much trouble for so long was impressed but a machine gun was still firing from it as we advanced - the gun was taken & the team killed.
10.30 am. Moved Batt HQ to BLUE LINE. As Batt now rather weak 1 Plat from A Coy, 1 Plat from B Coy & whole of C Coy formed one wave - D Coy forming 2nd wave - formed composition of force for attack on BROWN LINE with right flank on Marshes of R. SCARPE and left flank on ESK TRENCH - 5th CAMERONS moving with complete Battalion, their right being on ESK TRENCH (??) & left on Brigade left flank.
12.39 pm. In position on BLUE LINE lying under Barrage - heavy Smoke Barrage
12.43 pm. Advanced inline with 5th CAMERONS - occupied OLIVE TRENCH and waited under Barrage until 1.22 pm when attack went forward.
1.22 pm. Village of ATHIES captured without opposition and PALMY TRENCH occupied being the BROWN LINE and 3rd objective at the exact moment as laid down in Programme.
2.40 pm. Consolidation immediately commenced and two strong points erected. D Coy captured 2 77mm guns in ATHIES village. When the attack on ATHIES commenced the village was in a fairly good state of repair but during the bombardment it was entirely levelled to the ground the walls falling down in front of us as we advanced. The Barrage was very accurate we only having 2 casualties from Smoke Shells - 12th Brigade (4 Division) passed through us in Brown Line at 3.10 pm.
7.30 pm. A & S Hrs in BROWN LINE relieved by 5th Camerons and returned to bivouack in BLUE LINE and started to consolidate from S of ESK to R. Scarpe.
Casualties on the 9th inst. Officers - wounded: CAPT DENHAM (since died of wounds); Lt MACKIE, Lt STAUCHAN, Lt SCOTT, Lt PARK, Lt ROBINSON, Lt BEATTIE.
Other Ranks:
A Coy. 2 killed, 15 wounded, 11 missing
B Coy. 5 killed, 25 wounded, 6 missing
C Coy. 2 killed. 9 wounded, 0 missing
D Coy. 7 killed, 15 wounded, 1 missing.

Medals: Victory, British War.
TO CITE THIS PAGE: MLA style: "Bridge of Weir Memorial". Date of viewing. http://www.bridgeofweirmemorial.co.uk/profile-holmes.html