2ND LT I McN BANNATYNE 6TH H.L.I.
Second Lieutenant Ian McNiven Bannatyne
9th Battalion, att 16th Battalion,
Highland Light Infantry

missing presumed dead 18 November 1916 - aged 19

Thiepval Memorial
Ranfurly Church Memorial, Bridge of Weir
The High School of Glasgow Memorial
Ranfurly Castle Golf Club Memorial

Son of James Bannatyne and Jeanie McNiven
Fernhurst, Bridge of Weir
---
His Life
Ian McNiven Bannatyne was born on 18th June 1897 at 109 Stanmore Road, Mount Florida, Glasgow, the second son of James Bannatyne, solicitor and Jeanie McNiven, both from Glasgow, who had married in the Gorbals, Glasgow on 11th September 1895.
In 1901 James (34), Jeanie (34), and their sons Douglas and Ian (3) were living in 3 Clarence Gardens, Kelvinside, Glasgow. The family employed a general servant, Mary Cumming (20) from Edinburgh. Sarah McNiven a 37-year-old Glasgow schoolteacher, and William W Bannatyne, James's nephew born in Cape Colony, were also resident.
By 1911 the family had grown to seven, although Douglas had since died, and had moved to Fernhurst, Kilbarchan Road, Bridge of Weir. Ian (13) was at school, probably attending the High School of Glasgow, of which he was an alumnus. Melrose Urquhart (19), a young woman from Partick was employed as mother's help. (William W Bannatyne was by then living with his grandfather, also William Bannatyne, in 71 Abbotsford Place, Glasgow.)
Ian enlisted in mid-September 1914 in the 6th Highland Light Infantry with the rank of Corporal (2138) and he was later given a commission in the 9th Battalion. His medal index card does not state when he first entered the theatre of war, but he did not qualify for the 1914-15 Star. He was transferred to 16th Battalion, HLI (Glasgow Boys Brigade), part of the 97th Brigade, 32nd Division, on 22nd October 1916.
War diary WO 95/2403 describes the military engagement when Ian met his death. On 16th November 1916, Lt Bannatyne and his men were in billets in Englebelmer when a verbal order was received that the Brigade would attack the Munich and Frankfurt trenches north-east of Beaumont-Hamel the morning of the 18th. On the 17th the Battalion marched to Brigade HQ at White City. At 9:45pm they left Wagon Road but their guides lost their way and the connection was broken between the Companies. When the assembly position was reached at 2am only D Company was intact and it was 6am before the whole Battalion was assembled in battle positions.
Companies A, B, C and D lined up with the 17th Battalion of the Highland Light Infantry on their right and the 11th Battalion of the Border Regiment on their left. Zero time 6:10am -objectives Munich Trench and Frankfurt Trench.
The Battalion advanced and D Company with part of C Company entered the Munich trench with little opposition. Six to eight machine guns held up A Company as D Company pushed on into the Frankfurt trench leaving their comrades to mop up in Munich behind them. The enemy then collected in large numbers and "lively bombing duels" took place in Munich trench. "Our small party was quickly overwhelmed and every man was a casualty".
With no support the Highland Light Infantry men hung on in the part of the Frankfurt trench they had captured. The remnant of the Battalion took up position in Wagon Road ready for any counter attack until they were relieved on the morning of the 19th November. Ian Bannatyne was reported wounded and missing.
The Battle of the Somme is generally accepted to have ended on 18th November 1916, the day that Ian was killed. It was a costly day for Bridge of Weir, for Bobby Barr and Bertie McDougall in the 15th HLI were killed nearby in the same unsuccessful attack.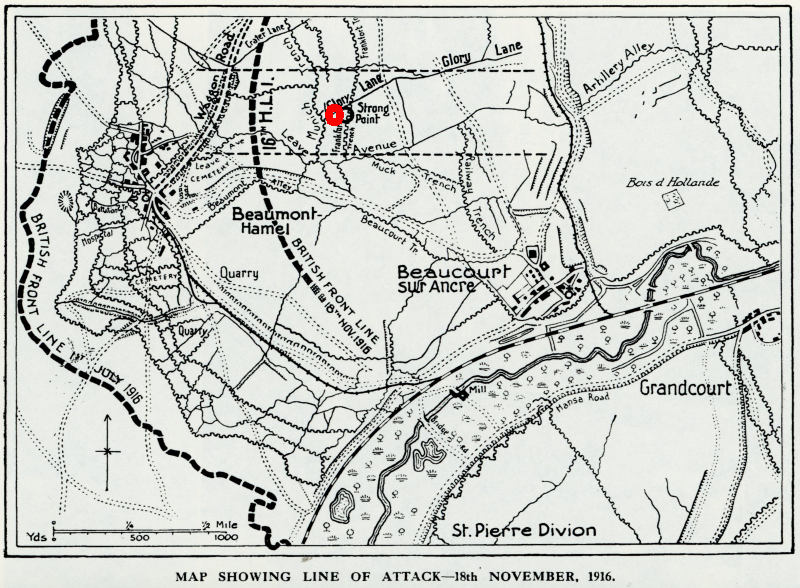 The field of battle where Ian Bannatyne went missing presumed dead on 18th November 1916. Three platoons of the 16th HLI reached the Frankfurt Trench, holding it for eight days before finally being overwhelmed.
---
Siblings
| 1901 Census | | 1911 Census | | Birthplace |
| --- | --- | --- | --- | --- |
| Name | Age | Name | Age | |
| Douglas W | 4 | | | Glasgow, Lanark |
| Ian M | 3 | Ian | 13 | Glasgow, Lanark |
| | | Brenda M | 9 | Glasgow, Lanark |
| | | Alison M | 6 | Glasgow, Lanark |
| | | Alma J M | 3 | Bridge of Weir |
| | | James L | 2 | Bridge of Weir |
---
Sources
Ian McNiven Bannatyne birth certificate, 18th June 1897. Regd. Cathcart, Renfrew 9th July 1897.
1901 UK Census: Parish: Govan; ED:17; Page:26; sch 123. 646/3G 017/00 026.
1911 UK Census: Parish: Kilbarchan; Ward: Bridge of Weir. ED4; page 3; lines 2-9; 559/0B 004/00 003.
Paisley and Renfrewshire Gazette
o 19th September 1914: Roll of Honour. Ian Bannatyne, Fernhurst, 6th HLI
War Diary WO 95/2403:16th Battalion, Highland Light Infantry. National Archives

22nd October 1916: In Billets RUBEMPRE. The undernoted Officers having joined the Battalion are taken on strength from this date. 2nd Lieut. I.M. Bannatyne. 2nd Lieut. D. Dewar. 2nd Lieut. P. Crichton. 2nd Lieut. G.S. Hislop. 2nd Lieut. W. Beattie. The Battalion marched from RUBEMPRE to Billets in BOUZINCOURT.
16th November 1916: In Billets ENGLEBELMER. Verbal orders were this day received by Commanding Officer that the Brigade would attack on morning of 18th. MUNICH and FRANKFURT TRENCHES, N.E. of BEAUMONT HAMEL.
17th November 1916: In Billets ENGLEBELMER.
17th -19th November 1916: The Battalion under the Command of Lieut.-Colonel R. Kyle, marched to MAILLY-MAILLET and halted for a meal, and then proceeded to Brigade Headquarters at WHITE CITY. Guides were procured at this point, and the Battalion proceeded to assembly position at WAGON ROAD, N.E. of BEAUMONT HAMEL at 9.45 p.m. The guides lost their way and connection was broken between Companies, result being that when the assembly position was ultimately reached about 2 a.m., only "D" Company was intact. The other Companies latterly reached this point, but it was 6 a.m. before the whole Battalion was in Battle Position, which was as follows:- Right to Left A, B, C, D, Companies with 17th H.L.I. on our right and 11th Border Regiment on our Left. Zero time 6.10 a.m. Objective (1) MUNICH TRENCH (2) FRANKFURT TRENCH. At zero the Battalion moved forward and "D" Company and part of "C" Company succeeded in entering MUNICH TRENCH with little opposition. A strong point with from 6 to 8 Machine Guns in the centre of "A" Company's front held up the other Companies and while part of the Battalion on our left also entered MUNICH TRENCH, the Battalion on our right was held up by Machine Gun fire. Three Platoons of "D" Company pushed forward and took FRANKFURT TRENCH, the remainder of the men having been left to mop up MUNICH TRENCH. Owing to the attack on our flanks having been unsuccessful, the enemy soon collected in large numbers, and lively bombing duels took place in MUNICH TRENCH. Our small party was quickly overwhelmed and latterly every man was a casualty. There was no support for the party which entered FRANKFURT TRENCH, but they hung on to the part they had captured, although isolated through the enemy being still in possession of his front line. The remnant of the Battalion took up position in WAGON ROAD in readiness for any Counter attack which might be launched. The Battalion was relieved by the 2nd Battalion Inniskilling Fusiliers on the morning of 19th November 1916. Relief complete by 8.30 a.m. The Battle Casualties were:- Killed: Captain W.E. Robinson, 2nd Lieut. G.M. Simpson, 2nd Lieut. D.A. Milholm, 2nd Lieut. G.W. Campbell. 16 Other Ranks. Wounded: Captain A. McPherson, 2nd Lieut. M.A. Agnew, 2nd Lieut. C.D. Mitchell 104 Other Ranks. Missing: Lieut. A. Skene, 2nd Lieut. J. Stewart, 2nd Lieut. F. Scott 260 Other Ranks. Wounded and Missing: 2nd Lieut. I.M. Bannatyne, 2nd Lieut. M.M. Lyon, 2nd Lieut. W. Duff 10 Other Ranks.

Medals: Victory, British War.
TO CITE THIS PAGE: MLA style: "Bridge of Weir Memorial". Date of viewing. http://www.bridgeofweirmemorial.co.uk/profile-bannatyne.html