SAPR DAVID R TOD R.E.
406145 Sapper David Robertson Tod
---
His Life
David Robertson Tod was born on 30th April 1890 in Bridge of Weir, the youngest of a family of four born to James Tod, a joiner from Falkland, Fife and Joan Robertson from Largo, Fife, who had married in Kelvin, Glasgow on 25th January 1884.
In 1891 James (40), Joanna (37), and their four young children James, Annabella, Catherine and David were living in Burnbrae Cottage, Bridge of Weir. James senior was a joiner.
In 1901 the Tod family of five was living in Kirkinner Place, Bridge of Weir. By then James junior was an apprentice joiner. John Wattie (22), a police constable, was boarding with the family. Annabella had died the year before at the age of 14.
In 1911, James, Joan, Catherine and David were living in a 3-roomed flat in Ladebank Terrace, Bridge of Weir. Catherine was a dressmaker and David (20) a currier in a leather works. William F Houston (28), a joiner from Bishopton, (destined to be another war casualty) was boarding. James junior was no longer in the family home.
Private David R Tod enlisted on 15th August 1914, one of the earliest to volunteer in Bridge of Weir, and was enrolled with the Royal Engineers with regimental number 537. By December he had been attached to Signals Company of the Argyll & Sutherland Highlanders, 51st Highland Division (as number 1820). His final number was allocated when he re-joined the Royal Engineers. He first joined the theatre of war on 1st May 1915. In June 1915, he was injured by a shell-burst but survived.
He died on 6th April 1917, with five others (according to newpaper reports - although only two other fatalities are identified in his Unit War Diary, it is possible that other fatalities were brigade or divisional troops), when repairing a telephone in a dug-out that suffered a direct hit from a shell, three days before the launch of the Arras Offensive. He is buried in the Anzin-St Aubin British Cemetery in the northern outskirts of Arras. The 51st Division were to play a key part in the capture of Vimy Ridge at the Battle of Arras .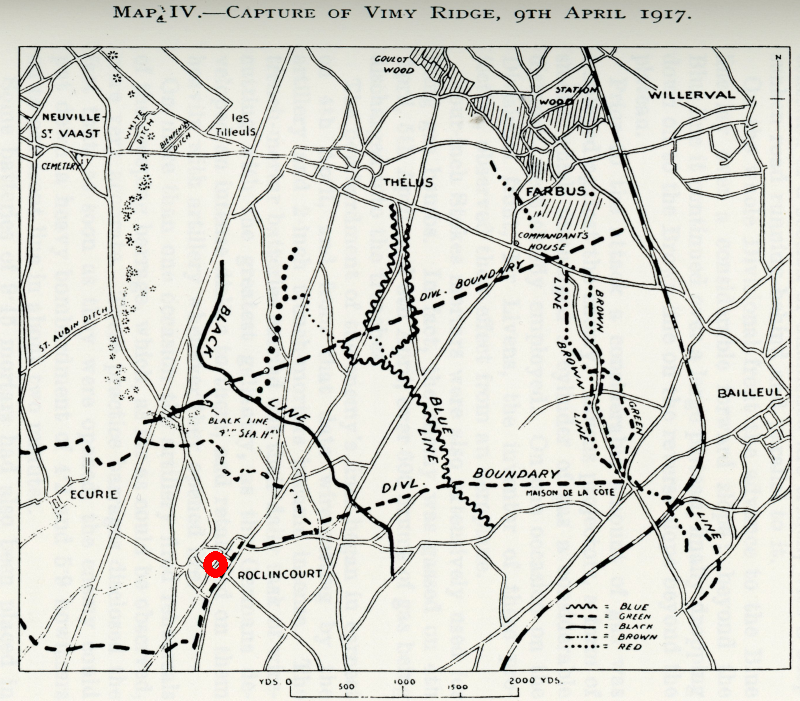 The field of battle where David Tod was killed by a direct hit on a dug-out in Roclincourt before the Battle of Arras.
---
Siblings
| 1891 Census | | 1901 Census | | 1911 Census | | Birthplace |
| --- | --- | --- | --- | --- | --- | --- |
| Name | Age | Name | Age | Name | Age | |
| James | 6 | James | 16 | | | Maryhill, Dunbartonshire |
| Annabella | 4 | | | | | Kilmacolm, Renfrewshire |
| Cath T | 3 | Catherine | 12 | Catherine T | 23 | Bridge of Weir |
| David R | 11 mo | David | 11 | David R | 20 | Bridge of Weir |
---
Sources
David Robertson Todd birth certificate, 30th April 1890; Bridge of Weir. Regd. 19th May 1890.
1891 UK Census: Parish: Kilbarchan; ED:8; Page:12; Line:11; Roll: CSSCT1891_185.
1901 UK Census: Parish: Kilbarchan; ED:2; Page:18; Line:8; Roll: CSSCT1901_188.
1911 UK Census: Parish: Houston. Ward: Houston West; Page 1; lines 20-24. 559/0B 001/00 001.
War Diary. 51st Division, Divisional Signal Company. 1 May 1915 - 31 March 1919. WO95/2856/2. National Archives

April 1st to 6th 1917: Advanced party of Company at MAROEUIL engaged making a hop pole route and a trestle route from Divisional Hqrs. at Cemetery Maroeuil to Chausse Brunehaut and from there a bury to join the rear end of the Corps bury near ANZIN. Small parties also working in the treches east of ECURIE and ROCLINCOURT joining the Corps buries and also in laying cables to Battalion Hqrs from Bdes.
6th April: Company moved to Maroeuil
L/ Corporal Anderson and Sappers R. Ramsay and D. Tod killed at 15th Battle Hqrs at Roclincourt.
7th April: Horse lines moved to ACQ.
8th April: Bdes. moved to their Battle Hqrs.
9th April: Division attacked. Communication remained good during the whole attack.

Paisley and Renfrewshire Gazette

19th September 1914: Enlisted 15th August 1914 David Todd (Signaller) Ladeside Terrace.
5th December 1914: ROLL OF HONOUR: Those serving at present in 6th A.&S.H. D. Tod signaller, Ladeside Terrace.
12th June 1915: The parents of David Tod, Ladebank Terrace, have received word that their son has been injured by the explosion of a shell in the trenches. The extent of his injuries are not known apart from him being deaf. He was a signaller in the Royal Engineers.
5th May 1917: Death in War; Writing to the bereaved parents of Sapper David Todd, Ladebank Terrace, the Officer of the fearless soldier says; 'After coming out of the fight, all outside work being cleared up, he, with 4 other men, and an officer, had gone into the dug-out to repair the telephone, when a shell burst struck the roof killing all six. I was much impressed with his quiet skilfulness, and devotion to duty. Your son was one of the bravest of my men and his loss is greatly felt by myself and all his comrades. Friday 6th April is the day your son was killed. I send my sincere condolences to yourself and your family.' The Rev. A.M. Shand MA, in his sermon last Sunday paid a touching tribute to Sapper David Todd.

St Machar's Church of Scotland Death and Interment Register:
o Tod, Private (Sapper) David; R.E.; son of James Tod, Ladebank; Killed in Action 6 Apr 1917 near Arras; aged 27.
Kilbarchan Cemetery Monumental Inscription:
o In memory of JAMES TOD beloved husband of JOAN ROBERTSON who died 1st Novr. 1933, aged 83 years. Their son Spr. DAVID R. TOD killed in action in France 6th April 1917, aged 26 years. Also their daughter ANNABELLA died 13th Octr. 1900, aged 14 years. The above JOAN ROBERTSON died 6th July 1941, aged 87 years. Their daughter CATHERINE died 17th June 1973 aged 85 years. "Peace Perfect Peace".
Medals: Victory, British War, 1914-15 Star.
TO CITE THIS PAGE: MLA style: "Bridge of Weir Memorial". Date of viewing. http://www.bridgeofweirmemorial.co.uk/profile-tod.html